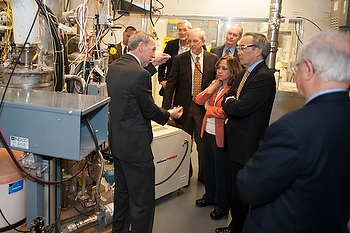 Dave Huizenga, head of EM, fifth from right, and Secretary of Energy Steven Chu, second from right, participate in a tour of Catholic University's Vitreous State Laboratory this week.
WASHINGTON, D.C. – Dave Huizenga, head of the Department of Energy (DOE) Office of Environmental Management (EM), was part of a DOE delegation led by Secretary of Energy Steven Chu that visited Catholic University's Vitreous State Laboratory (VSL) this week.
The group participated in a nearly three-hour tour of the various VSL labs and projects, most notably to see work in support of the safe immobilization of nuclear wastes at DOE sites around the country.
 "The Vitreous State Laboratory is widely recognized as an excellent university center for the study of glassy materials," Huizenga said. "VSL's support to EM over the past several years has helped us continually improve efficiency in melter design and operation."
During the tour, Secretary Chu, Huizenga, and VSL Director and Professor of Physics Ian Pegg discussed potential glass formulation and melter operations enhancements related to the Hanford Waste Treatment and Immobilization Plant, for which VSL is providing research and development support. When complete and operational, the Hanford Waste Treatment Plant will safely immobilize millions of gallons of radioactive and chemical waste currently stored in underground tanks at the Hanford Site. The waste is the result of decades of plutonium production at Hanford.