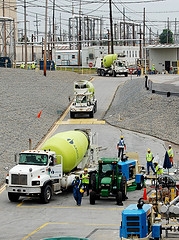 Cement trucks transport a specially formulated grout that is pumped into two underground waste tanks at the Savannah River Site as part of work to close the massive structures.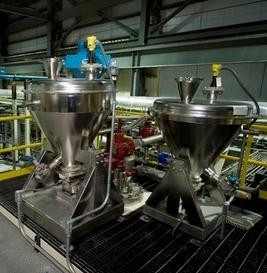 A view of the interior of the Integrated Waste Treatment Unit at the Idaho site.
IDAHO FALLS, Idaho – A board charged with advancing the cleanup of underground waste storage tanks met this month to establish new working groups and draw lessons from recent successes at the Savannah River and Idaho sites.
It was the first time the EM Tank Waste Corporate Board met since EM reorganized under a matrix structure earlier this year to better align the program and achieve mission success. Originally formed in the early 1990s, the board revised its charter this year to align with the new organization, which is comprised of Mission Units. One of those units develops strategies to plan and optimize tank waste processing.
The board will help EM move forward with processing highly radioactive liquid waste, which is among EM's greatest challenges requiring innovative technical solutions and scientific approaches. EM set the stabilization, treatment and disposal of tank waste as one of its core priorities. More than 240 tanks containing 90 million gallons of waste are located in the EM complex at the Hanford, Idaho, West Valley and Savannah River sites (SRS).
Large Group Gathers for Board Meeting in Idaho
More than 40 participants attended the August board meeting, including employees from EM headquarters and field sites and national laboratories, EM contractors, and representatives from the Energy Facility Contractors Group, an organization of DOE contractors that works to promote excellence in the operation and management of DOE facilities.
The board will meet twice a year to formulate and coordinate an effective and efficient national tank waste program. Its next meeting is tentatively scheduled for March at SRS. EM operates similar corporate boards for low-level and transuranic waste disposition.
"The Tank Waste Corporate Board provides the perfect forum for EM to continually improve its tank waste program through dialogue by leaders at our sites and headquarters working to clean up tank waste," said Frazer Lockhart, EM headquarters project sponsor of a new waste treatment facility at the Idaho site and the board's staff coordinator. "There are many lessons learned to discuss and technical issues to investigate in cross-site collaboration and information sharing."
Experts Share Lessons Learned from Tank Waste Projects
During the two-day board meeting, SRS representatives shared lessons learned from the recent successful completion of waste removal and cleaning operations at Tanks 18 and 19, which originally held 1.3 million gallons of radioactive hazardous waste. The tanks will be officially closed later this summer following the completion of grouting operations that ensure they pose little or no future risk to the environment or the public.
Participants in the meeting also toured the Idaho site's Integrated Waste Treatment Unit (IWTU), a second recent major tank waste accomplishment for EM. Workers last year completed construction of the 53,000-square-foot facility for treating 900,000 gallons of radioactive, liquid sodium-bearing waste stored in underground tanks at a former Cold War spent nuclear fuel reprocessing facility. Using 3-D glasses, the board members also sampled a visualization tool at the Idaho National Laboratory that simulated the treatment of calcine, a high-level waste, at IWTU. That would be a potential future mission for the facility following its current mission to treat sodium-bearing waste.
Members of the IWTU project team presented lessons learned from the project to participants at the board meeting. They told the board members that a strong and dedicated integrated project team can work through numerous issues. Construction project reviews help focus the project on blind spots, and facility operators, radiological control and maintenance personnel need to be brought on board early for training and facility familiarization, they said.
Working Groups to Move Forward with Initiatives
The board set up working groups to focus on key initiatives, including accelerating tank closures and updating performance measurements, some of which were established years ago. The performance measurements group will research metrics used by EM sites and determine if they can be applied to the entire EM complex. The tank closure group will focus on topics such as technical and regulatory aspects.