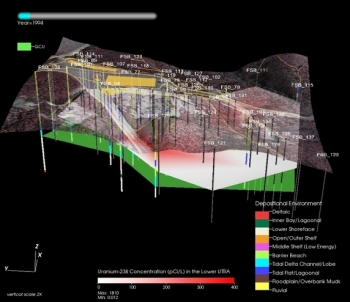 An Akuna-generated figure of the Savannah River F-Basin site showing the distribution of surface structures, well, contaminate plume and lithofacies.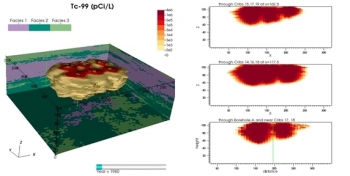 Modeled spatial distribution of technicium-99 after the releases from the BC cribs on the Hanford Central Plateau using VisIt software.
WASHINGTON, D.C. – EM is leading a multi-laboratory team that is developing a state-of-the-art tool for the scientific community to improve understanding of complex contaminated subsurface systems. This tool, known as the Advanced Simulation Capability for Environmental Management (ASCEM), will enable the development of risk-informed and cost-effective remediation approaches to achieve disposal solutions protective of human health and the environment. The program was initiated by EM's Office of Soil and Groundwater Remediation. The latest annual report for ASCEM is available.
ASCEM is organized into three technical areas: a user interface (Platform and Integrated Toolset) called Akuna, a computational engine (Multi-Process High Performance Computing Simulator) called Amanzi and deployment with end users (Site Applications). These areas interface to develop the ASCEM toolset and approach.
The most notable advancement in the fiscal year 2012 annual report is the release of a second set of demonstrations (also available for download at the web site) highlighting simulations that exemplify the integration of capabilities at the Hanford site, through the Deep Vadose Zone-Applied Field Research Initiative, and the Savannah River Site, through the Attenuation-Based Remedies–Applied Field Research Initiative.
"It is exciting to see the national labs working together to create the next generation simulation tools that will pay dividends in guiding future cleanup decisions for EM and the rest of the Department," EM's Office of Soil and Groundwater Remediation Director Kurt Gerdes said. 
Through the working groups and end-user engagement, ASCEM will test and demonstrate capabilities to enable the program to be used to guide site decision making to develop long-term paths to complete EM's cleanup mission.
This fall, the ASCEM Initial User Release will consist of a description of software capabilities, a downloadable version of the toolsets with accompanying input files, and tutorials based on select test cases. Users will be able to interact with the ASCEM toolset.
For questions on ASCEM, contact Dr. Justin Marble, the program manager with the Office of Soil and Groundwater Remediation, at justin.marble@em.doe.gov.