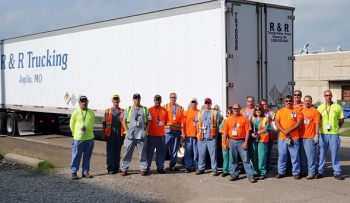 Waste management and transportation personnel worked late to complete the first shipment to WCS. Through a contract with DOE, WCS will treat and accept potentially hazardous waste that has been at the Portsmouth site for decades. Pictured (from left) are Scott Fraser, Joe Hawes, Craig Herrmann, Jim Book, John Lee, John Perry, Josh Knipp, Melissa Dunsieth, Randy Barr, Rick Williams, Janet Harris, Maureen Fischels, Cecil McCoy, Trent Eckert, Anthony Howard and Chris Ashley.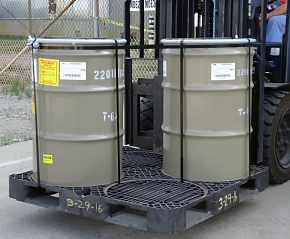 These drums containing radioactive waste from uranium enrichment operations were included in the Portsmouth site's first shipment to WCS.
PIKETON, Ohio — EM's Portsmouth site this summer sent its first shipment of mixed low-level radioactive waste from its uranium enrichment operations to Waste Control Specialists (WCS) in Andrews, Texas for treatment and disposal.
Completing the shipment to the commercial disposal facility was a significant achievement for the site and its contractor, Fluor-B&W Portsmouth, because few alternatives exist for disposing of radioactive waste, especially when it is a mix of low-level radioactive and hazardous waste.
"This shipment to WCS is a key part of safe cleanup of the former gaseous diffusion plant," DOE Site Director Dr. Vince Adams said. "The work being done is another step in preparing the site for future use."
The shipment contained waste with uranium and chromium contaminants. Due to the presence of chromium, a hazardous waste, the material was subject to regulations and criteria of the Environmental Protection Agency's Resource and Conservation Recovery Act (RCRA), which aims to protect human health and the environment from the potential hazards of waste disposal. Treatment is required to help ensure the RCRA contents do not leach into the environment after disposal.
WCS, a waste processing and disposal company, has worked with DOE and the state of Texas since the late 1990s to treat mixed radioactive waste generated across the DOE complex. Until earlier this year, the waste had to be sent to other sites for disposal. But now WCS operates the licensed federal waste disposal facility on site. This new facility eliminates the need to transport the waste to an offsite disposal facility after it is treated, reducing risk to the public and environment. WCS also is closer to the Portsmouth site than other disposal facilities.
"We have to do a cost-benefit analysis for all of the waste streams and look at safety, cost, compliance and quality to determine the best options. There are very few places in the U.S. that will take radioactive waste. WCS's entry into the market offers us additional choices," Fluor-B&W Transportation Manager John McCoy.
In June, DOE officials marked the opening of the WCS facility. EM Senior Advisor Dave Huizenga and several other federal, state and local officials attended an event at WCS and witnessed the first container being placed in the new state-of-the-art facility. The DOE Los Alamos Field Office was the first to dispose of waste in the facility.