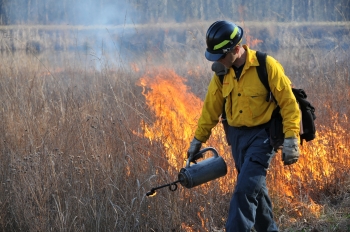 A firefighter uses a drip torch, a can of fuel with a flame-carrying torch head at the spout, to ignite the fire.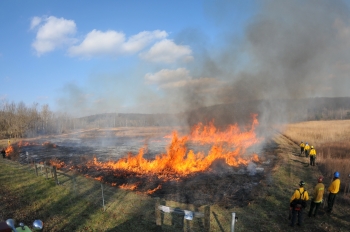 A controlled prairie burn was conducted at the Portsmouth site in mid-December last year.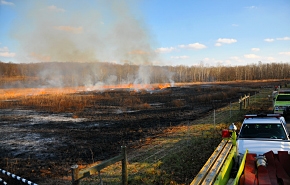 Firefighters keep watch as the controlled prairie burn is completed at the Portsmouth Site.
PIKETON, Ohio – Portsmouth Gaseous Diffusion Plant firefighters recently completed a prescribed fire, or controlled burn, of an 18-acre prairie at the site, two weeks ahead of a regulatory deadline.
"Burning the prairie in a controlled manner stimulates the germination of prairie grasses and reduces the invasion of woody plants to maintain a healthy prairie ecosystem," said DOE Site Director Vince Adams. "Our plant fire services and the burn manager certified by the Ohio Department of Natural Resources did an excellent job to safely complete this project without incident."
The burn was completed Dec. 18 after being postponed several times due to wet weather. The approved burn plan contained specific weather restrictions to ensure favorable weather conditions with acceptable relative humidity, wind speed, and temperature during the burning activities. It also required the closing of a public roadway alongside the prairie.
"Extensive coordination and communication is a must for a project like this," Adams said. "We worked very closely with our state and local officials and the public to make all the proper notifications and to minimize the inconvenience of the road closure."
The prairie ecosystem was the result of remediation of former lime sludge lagoons that settled out waste lime from the plant's water treatment plant. The unlined sludge retention lagoons were originally constructed in 1954. During a brief period in the late 1950s, the lagoons received re-circulating cooling water sludge from the plant, including sludge contaminated with chromium due to the use of a chromium-based corrosion inhibitor in the cooling water pipes.  
The cleanup of the lagoons in 1996 and 1997 was the first Corrective Measures Implementation project completed under the site's Resource Conservation and Recovery Act Corrective Action Program. The approved remedy by the U.S. and Ohio Environmental Protection Agencies involved dewatering the three separate lagoon areas encompassing 18 acres, installing a reinforced geotextile fabric over the sludge, constructing a soil and vegetative cover with a minimum two-foot coverage across the entire area, and finishing the project by planting 38 varieties of prairie grasses and plants. Under the maintenance and surveillance plan required by regulators, the prairie is to be burned once every three to five years.