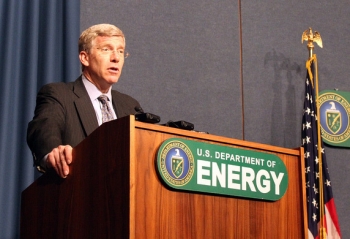 Deputy Secretary Daniel Poneman talks to participants in EM's Contract and Project Management Workshop this week.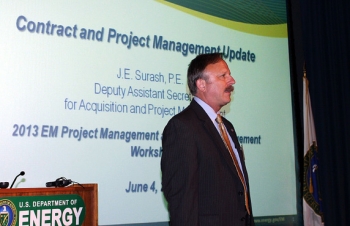 EM Deputy Assistant Secretary for Acquisition and Project Management Jack Surash discusses EM's current contract performance.
WASHINGTON, D.C. – More than 140 EM employees from across the DOE complex came together for a two-day workshop this week focusing on the challenges and successes in contract and project management.
Participants in the 2013 Contract and Project Management Workshop discussed strategies to improve contract and project management and received briefings from several DOE officials, from EM Principal Deputy Assistant Secretary Tracy Mustin to Deputy Secretary Daniel Poneman, who talked about the significance of EM's work.
"The Environmental Management mission is essential to our success," said Poneman. "We take our obligations to clean up our sites and ultimately restore them to the communities with the utmost seriousness. We will only succeed with the help, ingenuity and efforts of the people here in this room and the people participating from around the complex."
Poneman also emphasized that safety and security are absolutely integral to EM's mission.
Mustin told the workshop participants they should be proud because the work they do in contract and project management is the basis for all of EM's accomplishments, such as the completion of cleanup of 90 of 107 former nuclear weapons and research sites.
"Contracts and project management are the underpinning of everything that we do, and we could not accomplish our mission without that," she said.
The annual event for the EM headquarters and field sites workforce is hosted by EM's Office of Acquisition and Project Management. The aim is to offer a forum for the exchange of information and ideas, where headquarters officials listen to the needs and achievements of EM's field sites and participants provide insight into the drivers that lead to changes in contract and project management policies and changes.
The forum provides an opportunity for frank discussions on improving EM processes by ensuring requirements are clearly delineated in contracts, holding contractors accountable and documenting the performance of contractors fairly. These discussions contribute significantly to improvements in other key controls within the acquisition and project management area, including:
Verifying that contract and project management staffing and skills are at the right level to sustain needed capacity for federal oversight of the EM mission;
Ensuring management tools are in place to independently validate the effectiveness and sustainability of contract and project management improvement actions through project and contract management reviews and verifying that those reviews are contributing to improvements in acquisition and project results; and
Maintaining discipline in the alignment of contracts and performance baselines by ensuring change management requirements and guidance are understood and followed by all.
EM Deputy Assistant Secretary for Acquisition and Project Management Jack Surash discussed high-level challenges and achievements related to EM's contract management performance in fiscal year 2013. For example, he noted that 99 percent of EM's contracting personnel and 92 percent of project management personnel have appropriate certifications. As of April 30, half of the 24 peer reviews planned for projects with a total project cost of $10 million or more were already complete, with the remainder expected to be done before the end of September. EM is also expected to meet its small business contracting targets again in the 2013 fiscal year.