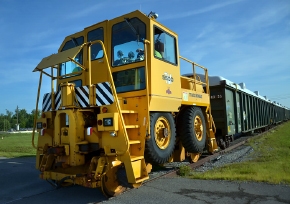 The first five-car section of demolition debris from the C-340 Metals Plant leaves July 15 from the Paducah site.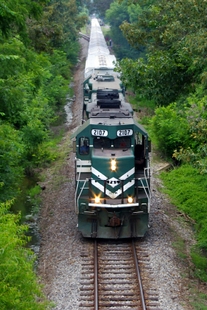 A P&L locomotive travels near Woodville Road, south of the Paducah site, with the waste shipment in tow.
PADUCAH, Ky. – Twenty-eight rail cars filled with debris from a major demolition project under the EM program at the Paducah site have been delivered to an offsite disposal facility.
"Removing the remaining demolition waste from one of the most contaminated structures on site is a major accomplishment toward our cleanup mission," DOE Paducah Project Manager Rob Seifert said.
Covered rail cars, called gondolas, contained 1,920 tons of steel I-beams, steel plates, piping, ductwork and equipment removed from the C-340 Metals Reduction Plant. The plant was demolished to slab in February after nearly five months of work by EM cleanup contractor LATA Environmental Services of Kentucky. Workers demobilized the site earlier this month.
The rail cars left the fenced area of the Paducah site last month and were coupled with a Paducah & Louisville (P&L) Railway train just west of the site. The rail cars later were broken into sections, and the last shipment arrived at the commercial low-level radioactive waste disposal facility in Utah Aug. 8.
Better known as the Metals Plant, the facility was used to manufacture uranium metal during the Cold War and contained polychlorinated biphenyls, radionuclides and asbestos. It is the first uranium processing facility at the site to undergo full-scale demolition.
Special steps were taken to ensure safe, efficient rail shipment:
Large, heavy-duty liners were installed in the rail cars, which also were equipped with removable, sealable lids to keep rain out of the waste. The railcars and lids will be decontaminated at the disposal facility and returned to the Paducah site for reuse; and
 
LATA Kentucky members of United Steelworkers Local 550 used heavy equipment to cut large steel sections into smaller pieces so that rail cars could accommodate more waste.
The Metals Plant encompassed about 1.5 million cubic feet, the volume of a football field roughly three stories tall. Demolition of a single-story section was completed in mid-December, followed by removal of a four-story section. The metals plant was a seven-story, 120-foot-high structure — the tallest building at the site — and the latest to be taken down.