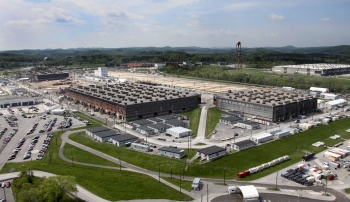 Workers near completion of the non-technetium area of K-25's east wing (left). Oak Ridge anticipates beginning demolition on the North Tower (right) by October.
OAK RIDGE, Tenn. – Representatives from federal, state, and local historic preservation groups gathered earlier this month to celebrate the formal completion of an agreement that preserves the historic contributions of Oak Ridge's K-25 site to the Manhattan Project and Cold War.
The memorandum of agreement (MOA) between the DOE, Tennessee State Historic Preservation, Advisory Council on Historic Preservation, City of Oak Ridge, East Tennessee Preservation Alliance and other consulting parties has been under negotiation for nearly a decade. The finalized plan lays out a multi-year plan to commemorate the K-25 complex, which contained more than 500 facilities, including the world's largest building, and 12,000 workers during its peak operations. The complex was pivotal in developing the uranium enrichment process, providing fuel to the first nuclear submarine and the first atomic power station and improving flu and polio vaccines through the liquid centrifuge process.
"After these buildings are gone, and after we are gone, our grandchildren will know that the men and women who worked here made one of the greatest achievements in American history," said Sue Cange, DOE's deputy manager of EM in Oak Ridge.
Under the terms of the agreement, DOE will undertake three broad initiatives to commemorate and interpret the history of the K-25 complex. The projects include constructing a three-story equipment building that recreates a scale representation of the gaseous diffusion technology and contains authentic equipment used in the original facility. In addition, the EM program agreed to place a K-25 History Center at the site which exhibits equipment, artifacts, oral histories, photographs and videos. Also, DOE will provide a $500,000 grant to preserve the Alexander Inn, a historic structure in Oak Ridge where visiting scientists and dignitaries stayed during their visits to the area.
 
Cange said implementation of the preservation initiatives will begin this fall. "I want to thank the large number of people who contributed their time and ideas, and who never gave up on this project," she said.
 
With the MOA signed, EM can continue taking down the building with no delay to the demolition schedule, and EM expects to begin demolishing the North Tower by October.
The K-25 complex was constructed in 1943 and closed in 1987. Known today as the East Tennessee Technology Park, the original buildings are in the process of being demolished by DOE as part of the largest environmental remediation project in Tennessee's history. The property is being turned into an industrial park for future economic development.