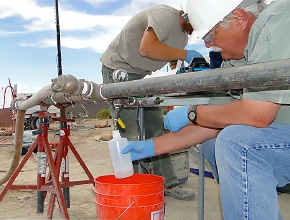 A specialist with the Nevada National Security Site groundwater characterization team collects a groundwater sample at well PM-3 located on the Nevada Test and Training Range, which is Air Force controlled land surrounding the NNSS. Groundwater characterization activities address the impacts of historic nuclear testing on groundwater.
LAS VEGAS – As 2013 activities come to a close, the Nevada National Security Site (NNSS) reports several noteworthy accomplishments for the year, including:
More than 1,000,000 cubic feet of low-level radioactive waste disposed from generators in support of EM activities onsite and throughout the complex;
Nine sampling campaigns completed at six groundwater characterization wells throughout the site; and
30 contaminated soils sites closed on the NNSS.
Nevada Field Office personnel are proud to conclude the year on such a successful note, according to Robert Boehlecke, Nevada Field Office Environmental Management Operations Manager.
"We're very pleased with the quality and efficient pace of our cleanup work," said Boehlecke. "The NNSS team performed extremely well, safely and efficiently."