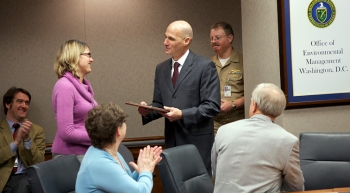 Thomas D'Agostino, right, who retired this month as Under Secretary for Nuclear Security and NNSA Administrator, presents EM's Candice Trummell with the NNSA Gold Medal earlier this month.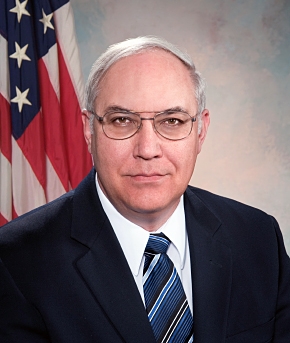 The National Nuclear Security Administration honored Kevin W. Smith with its Gold Medal.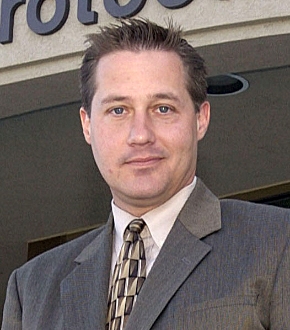 The National Nuclear Security Administration recognized Theodore E. Olds with its Silver Medal.
WASHINGTON, D.C. – The National Nuclear Security Administration (NNSA) recently honored three EM employees for their leadership and expertise in national security and helping advance the world's largest nuclear cleanup.
At EM headquarters, Thomas D'Agostino, who retired this month as Under Secretary for Nuclear Security and NNSA Administrator, presented EM's Candice Trummell with the NNSA Gold Medal. Trummell has served as EM Chief of Staff and is currently working on a detail as Acting DOE Press Secretary.
Trummell was recognized for her relentless devotion to leading efforts to develop and coordinate strategies to address complex technical, political and policy issues. NNSA noted that Trummell's sage advice and contributions to the DOE leadership team have been invaluable in fostering new ideas and building lasting partnerships.
A DOE employee since 2008, Trummell has worked in EM since 2010. She has been involved in issues related to nuclear waste cleanup and disposal since 2003 in her roles as a local elected official and then later as a consultant in the private sector. In 2003, Trummell became the youngest County Commissioner in Nevada's history at the age of 23. In 2004, the Nye County Commission elected her Chairman, a position she held until 2007, when she choose to not seek reelection after serving her term. Trummell was an active member of the Energy Communities Alliance when she served as Nye County Commission Chairman.
EM Office of River Protection (ORP) Manager Kevin W. Smith received the NNSA Gold Medal for his leadership, dedication and commitment to excellence, which have positioned the Nuclear Security Enterprise for continued success. Before working as ORP Manager, Smith served as the NNSA Los Alamos Site Office Manager, responsible for administering the Los Alamos National Laboratory (LANL) management and operations contract and all federal activities on the site. D'Agostino praised him for successfully tackling the toughest management and leadership challenges.
He led a federal team of about 130 employees who oversaw management, security, quality assurance, environment, health, safety, nonproliferation and national security missions at LANL.
NNSA honored ORP Chief of Staff Theodore "Erik" Olds with the NNSA Silver Medal. Olds was recognized for his leadership, expertise and collaborative approach, which have been essential to navigating the numerous, complex and challenging issues within ORP. His qualities have clearly set him apart from his peers, NNSA said.
An ORP employee since 2000, Olds was named ORP Chief of Staff in 2011. Previous to that post, he served as ORP Director of Communications and Public Affairs. In that role, Olds had overall responsibility for designing and leading a comprehensive ORP public affairs program.
Prior to his work at ORP, Olds was a Public Affairs Specialist at the Yucca Mountain Project Office in Las Vegas and EM's Richland Operations Office.
For more than 16 years, Olds has been leading innovative methods to communicate and collaborate with Congress, stakeholders and the media. Under his leadership, ORP launched one of the first social media sites within the Department, and led development of some of the earliest innovative and collaborative learning videos for public broadcast.