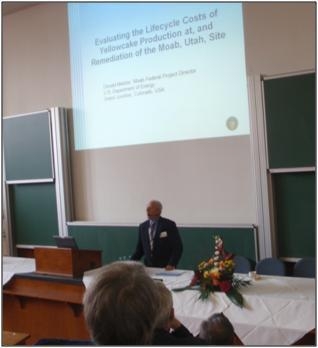 Moab Federal Project Director Donald Metzler presents at the Uranium Mining Remediation Exchange Group meeting in Germany in September 2011.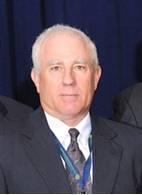 Moab Federal Project Director Donald Metzler
VIENNA – The Moab Uranium Mill Tailings Remedial Action (UMTRA) Project has kept the United States at the forefront of characterization, remediation, and end-state reuse of uranium mill sites around the world. Its interaction with leaders from other countries allows for exchange of experience involving mining and cleanup of uranium.
The Uranium Mining Remediation Exchange Group (UMREG) was created almost 20 years ago as a forum for discussion between the professional staff members of the UMTRA Program and their counterparts in the Wismut Remediation Program who were cleaning up the former East German uranium mining and milling legacy sites. Moab Federal Project Director Donald Metzler is one of the founding members of UMREG.
This Nov. 6 to 8 in Vienna, UMREG will be hosting its next meeting, themed "Creating Conditions Conducive to Remediation of Uranium Production Legacy Sites and Safeguarding an Economically and Environmentally Balanced Uranium Production Cycle." Although Metzler will be unable to attend this meeting, the other UMREG leaders insisted that a presentation on the Moab Project be given on his behalf. In addition, Metzler has been asked to provide an opening statement to be read at the meeting.
"I wish I could be there to advance the cooperative leadership with international experts that UMREG has established," said Metzler. "However, I am honored that a colleague will be giving a presentation on my behalf that shows how we are meeting the Moab Project's mission of efficiently relocating the uranium mill tailings pile to a safer location, and restoring the former ore-processing site."
The Moab Project recently marked five years of success. Major achievements include the relocation of more than a third of the mill tailings pile along the Colorado River near Moab to a nearby engineered disposal cell and the excavation of about 90 acres of the estimated total 250 acres of the disposal cell. In all, the work in the past five years was completed for about $8 million less than budgeted.
As an executive committee member of UMREG, Metzler represents DOE, the standard of excellence to which many international programs are compared. He typically chairs a session at UMREG meetings and participates in panel discussions. Metzler has also presented numerous papers on relevant topics to the international community, including stabilization of tailing piles with high fluid content, dealing with the challenges of site and habitat restoration and lifecycle remediation costs.
Over the years, UMREG expanded as operators, regulators, and stakeholders working on similar problems in Australia, Canada, France, Africa, Russia and Central Asia became involved. The goal of UMREG then became to establish a worldwide network promoting "economically and environmentally balanced uranium mining and remediation practices." The UMREG forum was adopted by the International Atomic Energy Agency (IAEA) and was folded into its uranium recovery branch in 2008.
"Participation in UMREG meetings benefits the mission of DOE by demonstrating the progress of the U.S. program and by learning from the experience of the world's other cleanup programs," Metzler said.
EM Returns to IAEA Discussions in Vienna
The upcoming UMREG meeting comes on the heels of a recent event in Vienna of historic significance to EM. It was the first time in recent history that EM participated in the annual IAEA General Conference, which is the agency's highest policymaking body. There, alongside Secretary of Energy Steven Chu and the Office of Nuclear Energy (NE) and National Nuclear Security Administration (NNSA) counterparts, Senior Advisor for Environmental Management David Huizenga and EM employees communicated details of EM's work as the world's largest nuclear cleanup program.