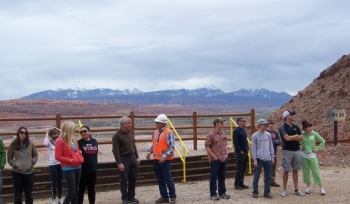 Students from the University of Utah contemplate the hillside geology at the rail load out area while Moab Federal Project Director Donald Metzler (in orange vest) addresses a question. The uranium mill tailings pile is behind and below the viewing area.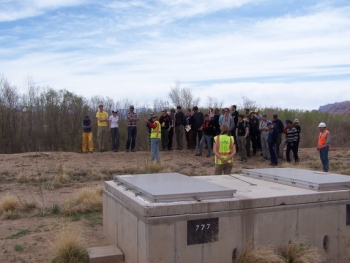 As Durham University students stand on the bank of the Colorado River, Moab Groundwater Manager Ken Pill (in yellow vest at left) explains how the groundwater interim action system operates. A well vault is in the foreground.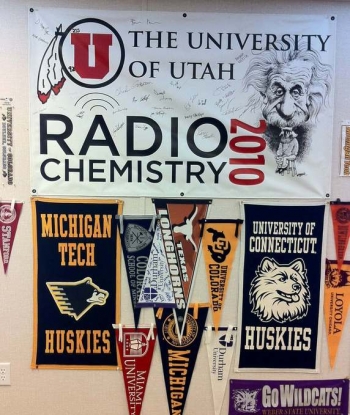 Banners hang in the site's conference trailer.
MOAB, Utah – As the weather warms up, EM's Moab Uranium Mill Tailings Remedial Action Project site in southeastern Utah becomes a popular destination for tours, especially by universities.
The geology of the hillside above the tailings pile where the rail load out area lies provides a unique setting. The groundwater remediation system and cleanup of the 16-million-ton tailings pile add to the site's appeal to a variety of environmental sciences classes including geology, biology and chemistry.
The Moab project hosts a growing number of schools that return to the site each year. Some even plan other parts of their fieldtrips around Moab tour stops. A group of about 30 students visited the site recently from the Durham University in England, marking the school's third visit to the site.
"Like previous years, many of the students are studying environmental geology so this [is] an ideal opportunity for them to see large-scale remediation of an environmental issue," according to Senior Lecturer James Baldini in the Department of Earth Sciences.
The University of Utah in Salt Lake City has brought a large radiochemistry class each year for the past four years. This year's class was the largest yet, with more than 60 students.
"Most groups want to see the site in operation, so we encourage them to visit during the week; however, this radiochemistry class is mostly interested in the composition of the tailings pile, how it got there and its effect on the groundwater," Moab Federal Project Director Donald Metzler said.
Tours usually begin with an overview presentation providing the site history, geologic setting and operations. Groups go on a vehicle tour to see the tailings preparation and removal activities and the well field near the bank of the Colorado River for the groundwater interim action system. 
Several years ago, Metzler began asking schools to bring their banners with them when they arrive for site tours. 
"Students from classes who visit the site in subsequent years enjoy seeing their school's banner on the wall," Metzler said.
An estimated 20 tours take place in spring and summer, according to Wendee Ryan, public affairs manager for the site's technical assistance contractor, S&K Aerospace, LLC. Ryan coordinates tours for the project.