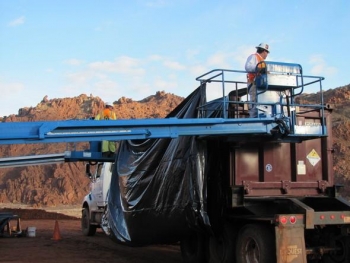 Laborers place a disposable liner in a tailings container.
MOAB, Utah – The Moab mill tailings removal project in Utah ended the year having shipped more than 35 percent of the total 16 million tons of uranium mill tailings off-site.
The tailings are being transported by rail 30 miles north to a disposal cell for permanent storage. More than 1 million tons of tailings were shipped during fiscal year 2012, which closed at the end of September.
The Moab Project also successfully transitioned both of its prime contracts in 2012. DOE awarded the Remedial Action Contract (RAC) to Idaho Falls-based Portage, Inc., to continue the tailings removal and disposal operations. Portage assumed site operations on April 30; its contract extends through September 2016.
DOE awarded the Technical Assistance Contract (TAC) to incumbent S&K Aerospace, LLC, a tribally owned company based in St. Ignatius, Montana. S&K provides technical support services to DOE and manages the groundwater remediation program. S&K's contract began on June 20, and is for three years, with two one-year options.
Both prime contractors are small businesses.
"The transition to the new contracts went very smoothly," said Moab Federal Project Director Donald Metzler. "Portage spent a couple of days at the beginning of its contract to ensure all of the necessary safety measures were in place and that employees knew their responsibilities before resuming the tailings haul."
Other than planned shutdowns, a trainload was shipped once daily, four days per week, through November.
Although no tailings shipments will occur from December through February, workers will be busy installing permanent liners in the containers used to transport the tailings. Made of a half-inch-thick durable plastic, the liners will prevent the tailings material, which tends to be sticky, from holding up in the containers. The existing practice of manually placing single-use disposable liners in the containers, which has the potential to create a safety issue, will be eliminated through installation of the permanent liners.
"The cost of the permanent liners will be recouped in less than five years through elimination of the disposable liners and the associated labor to place them," Portage Project Manager Jeff Biagini said.
The Moab Project has shipped more than 5.7 million tons of tailings to date and the RAC scope of work is to move 650,000 tons each year of its contract. In addition, the TAC extracted 16 million gallons of contaminated groundwater during 2012 and prevented 53,000 pounds of ammonia and 400 pounds of uranium from reaching the Colorado River.