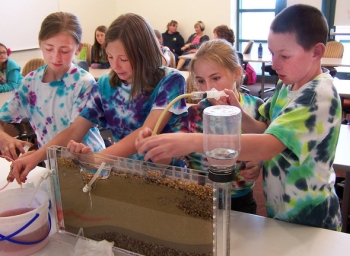 Fifth graders learn about cleaning up groundwater at the Children's Water Festival.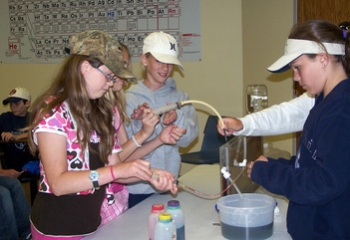 Kids have fun cleaning up "polluted" groundwater at the Children's Water Festival in Grand Junction, Colo.
GRAND JUNCTION, Colo. – Every spring, about 2,500 fifth graders in western Colorado participate in the Children's Water Festival — two fun-filled days of discoveries about water.
The importance of water and the many different roles it plays in the lives of students, their community and the world is emphasized. Students learn about water rights, water conservation, water pollution, water treatment, snow surveys, water system distribution, the dependency of water in a variety of industries and more.
The Ute Water Conservancy District, which provides domestic water to 80,000 users in the area, is the primary sponsor of the event. The district partners with businesses and government agencies to provide a diverse collection of hands-on activities to help educate the students.
Representatives from the Technical Assistance Contract (TAC) team for the DOE Moab Uranium Mill Tailings Remedial Action Project are among the 350 volunteers for the event. The TAC members offered a classroom demonstration at the recent 20th annual festival at Colorado Mesa University in Grand Junction, Colo.
Groundwater Manager Ken Pill and Public Affairs Manager Wendee Ryan used two sand-tank models to demonstrate how groundwater flows through the subsurface. The models represent a landfill, lake and belowground geology, including sand, gravel and clay layers. Also represented are wells to extract and monitor groundwater (completed at various depths within the tanks).
The volunteers discussed how groundwater becomes contaminated, the permeability of the various geologic materials and how it affects groundwater and contaminant movement and cleanup strategies, such as pump-and-treat and natural flushing methods.
Demonstrators filled the models with de-ionized water and initiated groundwater flow. Student "polluters" injected food coloring into the landfill and other parts of the models to allow them to easily simulate groundwater contamination. The students then played an active role in cleaning up the groundwater by choosing a well to extract the most contamination (colored water) using plastic syringes.
"Using a physical model gives students a tangible way of seeing the challenges of groundwater cleanup at the Moab site in Utah and helps them better understand how they can help protect groundwater resources where they live," Pill said.