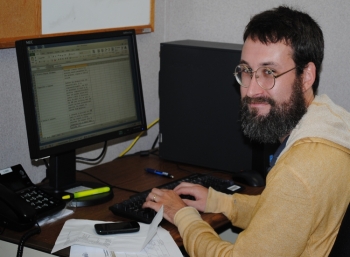 Johnny Whitaker, a college intern at Savannah River Remediation (SRR), uses system analysis and design to help develop a web-accessible inventory system for SRR subject matter experts.
In the summer comedy The Internship, two middle-aged men vie for jobs and new careers in the tech industry as Google interns. They are starting over and moving forward, just like one Savannah River Remediation (SRR) intern.
Johnny Whitaker has a sense of humor, but he's taking his new venture seriously. He is a cyber security summer intern with SRR. The 38-year-old husband, father and college student saw an internship with the Savannah River Site contractor as a great opportunity to learn and grow in his field of choice.
"You don't normally get this type of experience early on in your college career," says Whitaker. "I hadn't really thought about a career in cyber security until I began my internship." 
SRR's cyber security department currently operates on two sides: one monitors security configurations and another handles software security for the contractor's business systems. Whitaker is using system analysis and design to help develop an online inventory system for SRR subject-matter experts. 
"Being a newer department, SRR Cyber Security is still in the process of organizing and evaluating what works and what needs to be improved, so every day there seems to be some task or procedure that is being encountered for the first time," said Whitaker.
He hasn't seen the movie The Internship yet, but in the future Whitaker said that he would love to work for Google. But, he jokes, "I'm just not that hip."
Whitaker worked at the Medical College of Georgia (MCG) for 10 years before deciding to go back to school after noticing more companies implementing cyber security. The college student is one of 43 interns working with SRR this summer at the Savannah River Site. He graduated in December 2011 from Augusta Technical College with an associate's degree in computer programming. Whitaker currently attends Georgia Regents University and expects to graduate in 2015 with a bachelor's degree in computer science.