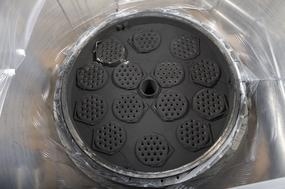 Pictured here is the Integrated Waste Treatment Unit's off-gas filter following the June incident.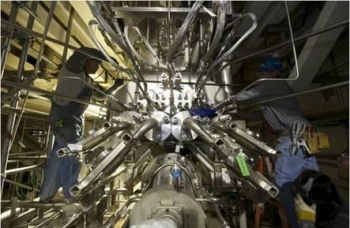 A view of the process piping installations prior to startup of the Integrated Waste Treatment Unit.
IDAHO FALLS, Idaho – The Idaho site and its cleanup contractor have launched a series of corrective actions they will complete before safely resuming startup operations at the Integrated Waste Treatment Unit (IWTU) following an incident in June that caused the new waste treatment facility to shut down.
Startup of the facility was initiated this spring. IWTU is intended to process approximately 900,000 gallons of remaining liquid radioactive waste at the site into a solid form for disposal through a unique steam reforming process. The liquid waste is currently stored in underground tanks at a former Cold War spent nuclear fuel reprocessing facility.
"We are taking deliberate steps to safely startup the Integrated Waste Treatment Unit facility and promptly process the entire 900,000 gallons of liquid waste. We continue to discuss the status of this important project, our progress and plans in moving forward with the state of Idaho. Completing this project is very important to us, but we won't compromise personnel safety or environmental protection," said Jim Cooper, DOE-EM Manager for the Idaho Cleanup Project.
The June incident did not release any radioactive material as the facility was in cold startup.
In the incident, filters in the facility became filled with wood-based charcoal fines. That led to a system pressure event and the subsequent shutdown of the facility weeks after EM had launched the startup. Following thorough reviews of the incident, EM and CH2M-WG Idaho (CWI) laid out an action plan to address items that caused the incident. The action plan includes both facility modifications and operations improvements.
The facility modifications include incorporation of filter bundle restraints to prevent lifting of filter bundles, relocation of vacuum filter pressure reliefs and pressure transmitters and improvements to the facility operations control system. As part of the operations improvements, EM and CWI are optimizing the oversight during recovery activities and startup of the facility to more appropriately address startup of a prototype facility. EM employees will be trained on lessons learned and oversight expectations and an EM official will closely monitor testing and process performance to ensure safe, efficient operations
Completion of the modifications is scheduled for November. Testing would follow in January, and radioactive waste processing would start in April.
EM has discussed the facility changes with the State of Idaho and continues to work closely with state officials to ensure the safe restart of the facility.