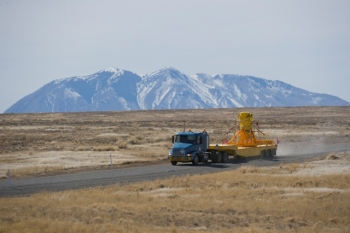 The HFEF-6 cask is transported on the haul road.
IDAHO FALLS, Idaho – Close coordination among operations, security and transportation teams at the Idaho site helped ensure the recent success of the first nuclear shipment on a newly constructed haul road.
The new road located between the Critical Infrastructure Test Range Complex (CITRC) and the Materials and Fuels Complex (MFC) is expected to help save significant time and cost over the life of the project by avoiding traffic disruptions on the public highway and increased cost associated with Department of Transportation regulatory requirements.
Fuel from the Experimental Breeder Reactor-II (EBR-II) was shipped on the road in a Hot Fuel Examination Facility-6 (HFEF) fuel cask, the first of several shipments scheduled during fiscal year 2012. The EBR-II fuel shipment campaign is part of a multiyear project to return the used fuel to MFC for evaluation and treatment to remove the sodium bonded to the fuel.
"It was great that the very first use of the new haul road was for one of our spent nuclear fuel moves," said Jim Floerke, Vice President at cleanup contractor CH2M-WG Idaho's (CWI) Idaho Nuclear Technology and Engineering Center (INTEC) Cleanup Project. "The haul road will be getting a lot of use over the next several years because we have a significant amount of material to ship. Our fuel operators and maintenance workers are great at what they do and seeing this EBR-II fuel and cask going safely down the road is another feather in their cap. They do good work and I am really proud of them."
Savings from the new road should extend beyond the EBR-II fuel campaign, allowing for safer, more efficient transport of nuclear and other shipments between research and other facilities at the Idaho site. There are more than 3,500 elements of EBR-II fuel in a storage pool at INTEC that will require at least 220 shipments using the HFEF-6 casks for transport.
Construction of the road is part of the Idaho National Laboratory Ten Year Site Plan and an investment by EM to help accelerate the removal of used fuel from the wet storage pool at INTEC. The road was built under a small-business contract with Doyon Limited.
Used fuel from the EBR-II reactor was shipped from MFC to INTEC for storage in the late 1970s and 1980s. Under DOE's 1995 agreement with the state of Idaho, all used fuel is set to be removed from the state by 2035. Because of its unique characteristics as a sodium-bonded metallic fuel, the EBR-II spent fuel must first be treated in MFC's Fuel Conditioning Facility before it can be placed in offsite interim storage or permanent disposal.