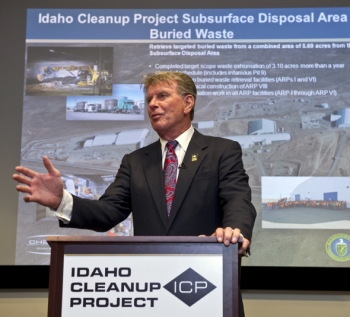 Idaho Governor C.L. "Butch" Otter discusses the importance of completing the cleanup mission at the Idaho site.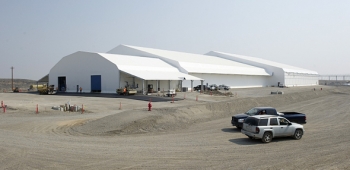 An exterior view of the recently constructed Accelerated Retrieval Project-VIII facility.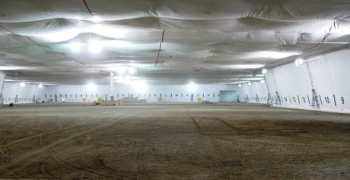 The Accelerated Retrieval Project-VIII building spans a 1.72-acre footprint. More than 2 million pounds of structural steel went into building. The eastern and largest portion of the structure is 250 feet long by 290 feet wide and 70 feet tall. The one-of-a-kind design consists of a center column-supported space frame connecting each side of the facility's roof trusses.
IDAHO FALLS, Idaho – Sometimes it takes creative solutions to solve financial challenges.
The EM program at the Idaho Operations Office and its main cleanup contractor, CH2M-WG Idaho (CWI), applied that principle recently to allow for the restart of a critical project at the Idaho site, earning the praises of Idaho Governor C.L. "Butch" Otter.
EM and CWI worked to identify efficiencies across all environmental cleanup projects ranging from productivity improvements to implementation of innovative solutions and energy savings. The resulting cost savings of approximately $8 million will fund the restart of the buried waste exhumation project. In this project, workers retrieve radioactive and hazardous waste from a decades-old Cold War landfill. The project was suspended last year due to budgetary challenges.
Since 2005, crews had been digging up plutonium and uranium-contaminated filters, plutonium-contaminated sludges, organic solvent sludges and oxidized, or depleted, uranium from the 97-acre landfill and shipping the waste for permanent disposal to the Waste Isolation Pilot Plant in New Mexico. The waste was generated during nuclear weapons production at the Rocky Flats Plant near Denver and was buried from 1954 to 1970.
To date, 3.11 acres of targeted waste has been exhumed of the 5.69 acres required under a 2008 Record of Decision with the DOE, state of Idaho, and U.S. Environmental Protection Agency. The buried waste exhumation project had been as much as one year ahead of schedule before stoppage last year.
"I appreciate the DOE's cooperation and the cleanup contractor's diligence in completing these milestones on time and under budget," Otter said. "While we still have some outstanding cleanup issues, this process demonstrates that our relationship with the Department of Energy is improving and we can be more confident that — with continued vigilance — promises will be kept and our concerns will be addressed."
CWI will hire approximately 65 members of the Steel Workers Union to complete this work scope. The overall buried waste project will cost approximately $1.3 billion and is expected to continue until the next decade.
"The success of the cleanup project is truly a team effort. The resumption of buried waste retrievals is a direct result of the Department of Energy, our cleanup contractor, CWI, and the state working together to identify funding and setting in place plans to restart the ARP (Accelerated Retrieval Project) work this year," said Jim Cooper, deputy manager of EM for the Idaho Operations Office. "We greatly appreciate the support of the governor and we commend him for his continued support of the Idaho Cleanup Project and the Idaho National Laboratory."