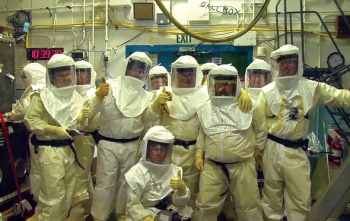 Team members gather for a photo after safely and successfully completing a complicated glove box separation.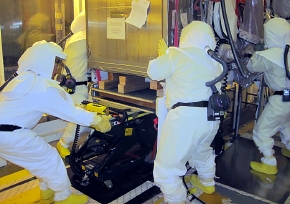 Workers separate highly contaminated glove boxes from their connection points in Hanford's Plutonium Finishing Plant.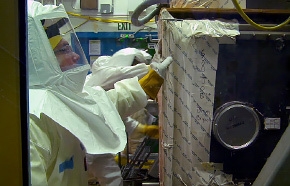 Workers pull a glove box apart and encase each section in a protective covering to prevent exposure.
RICHLAND, Wash. – EM's Richland Operations Office and contractor CH2M HILL Plateau Remediation Company (CH2M HILL) recently finished safely separating three glove boxes for removal from Hanford's Plutonium Finishing Plant (PFP) after months of planning and preparation.
The 7,500-pound pieces of equipment known as glove boxes were challenging to manage due to their large size and unusual configuration. The highly-contaminated glove boxes were once used to make plutonium metal from plutonium solutions for weapons production.
The latest project brings the number of glove boxes removed to more than 180 of 238 total. The goal is to finish cleaning out and demolishing all PFP facilities in 2016.
Over the past several months, a crew of 10 workers prepared the glove boxes for removal by isolating and removing external utility systems connected to them. They removed room walls, size reduced and removed internal equipment and decontaminated interior surfaces of the glove boxes.
After separation, the glove box units were loaded into containers for disposal.