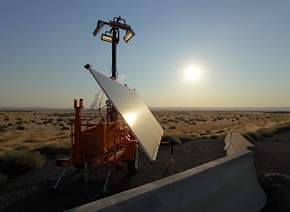 EM's Richland Operations Office and its contractors found solar power alternatives to building 1.5 kilometers of power lines and 15 to 20 power poles to bring electricity to Hanford's 618-11 Burial Ground project.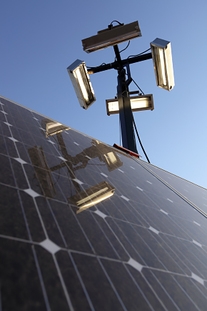 Workers implemented pad-mounted solar lighting, which saved time and money.
RICHLAND, Wash. – EM's Richland Operations Office (RL) has tasked contractor Mission Support Alliance (MSA) with improving sustainable energy usage on the Hanford site.
MSA, the site's prime contractor for integrated site services, helps EM evaluate and implement effective, cost-saving methods, such as solar power. Solar power supports railroad track crossings, meteorological data towers, mobile camera monitoring systems, electronic message reader boards and sirens.
MSA's sustainability team includes two certified energy managers who develop energy-saving solutions. The team identifies opportunities to implement energy efficiencies and energy rebates.
"Including sustainability in our everyday work allows more of our funding to go to the Hanford cleanup," Hanford Site Sustainability Senior Advisor Ashley Morris said.
"The benefits expand far beyond the price of the equipment. If a contractor is going to replace something, they can ask us to help look into energy-solving options," said Jennifer Ollero, who manages the sustainability program for MSA's energy and environmental services organization. "Often, we are able to find cost savings and get money back through rebates."
For example, in one case, RL's River Corridor prime contractor, Washington Closure Hanford (WCH), consulted MSA in 2011 to determine whether solar power could support remediation of the 618-11 Burial Ground. WCH needed lighting to illuminate the entrance.
WCH and MSA investigated alternative technologies to eliminate the use of electricity. MSA installed three solar lights and WCH implemented pad-mounted solar lighting. The mobile and reusable solar lights provided adequate lighting. Following the project, the light fixtures were moved to other site locations for use.
By using solar power in the remediation project, RL saved more than $850,000 in design and construction costs.
"We are creating a sustainable environment and this is exactly what we did with this project," Morris said.