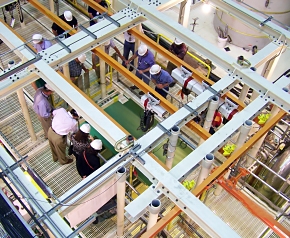 A team from the Oak Ridge Office of Environmental Management observes equipment that will be used to retrieve highly radioactive sludge at the Hanford site. This pump was modified to fit the underwater environment where the sludge is stored.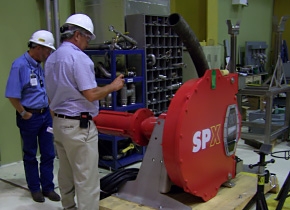 Representatives from the Oak Ridge Office of Environmental Management observe a mock-up reactor basin at the Hanford site where the Richland and CH2M HILL are testing equipment to be used to retrieve highly radioactive sludge.
RICHLAND, Wash. – EM's Richland Operations Office (Richland) and its contractor, CH2M HILL Plateau Remediation Company (CH2M HILL), welcomed staff from the Oak Ridge Office of Environmental Management Transuranic (TRU) waste processing team in Tennessee to the Hanford site recently to share lessons learned in the retrieval and processing of highly radioactive material, called sludge.
"This was a good exchange for the Hanford site," Richland Federal Project Director Roger Quintero said. "It gave us an opportunity to share our experiences, and we learned from our colleagues at the Oak Ridge site. These partnerships are productive for the Department and its contractors."
Just 400 yards from the Columbia River, which flows through Hanford, approximately 30 cubic meters of the sludge is stored underwater in an aging, water-filled reactor basin. That amount is roughly equivalent to the size of a 20-foot cargo shipping container.
EM and CH2M HILL have been working together to develop a better understanding of the sludge and to develop and test the best engineered approach to remove, treat and package the sludge for interim storage and final disposition in the future. Much of this process is in final demonstration testing.
The Oak Ridge team selected Hanford because it is leading the way by developing technology to solve the complex challenge of retrieving the sludge. Personnel from Oak Ridge visited Hanford to find potential solutions because both groups are dealing with similar problems. 
The team visited Hanford's Maintenance and Storage Facility, where workers constructed a full-scale replica of the reactor basin that contains the sludge. Workers at the facility design, develop, test and train for sludge retrieval, mastering the retrieval tools, processes and techniques for sludge retrieval in a safe, radiologically clean environment. The Oak Ridge team met with CH2M HILL workers who are designing, building, and training on the equipment and systems that will be used in the basin to retrieve sludge.
Laura Wilkerson, portfolio federal project director for Y-12 Projects and TRU Waste Processing and Disposition at Oak Ridge, wrote Richland's Quintero a thank you note after the visit by the Oak Ridge team.
"The extensive knowledge and command of the subject by all (feds and contractors alike) was impressive," Wilkerson wrote. "I am confident that the lessons learned shared by you, Tom (Teynor), and your team will be beneficial as we embark on our sludge processing work."
"Nuclear sites like Hanford and Oak Ridge were once part of a similar mission and now have similarly challenging wastes," CH2M HILL Decommissioning, Waste, Fuels and Remediation Services Vice President Ty Blackford said. "The consistency of waste streams like sludge may be somewhat unique to the sites, but many of the solutions we have used, and are planning to use, can be of benefit to other sites. We are glad to share our lessons learned and best practices across the DOE complex to help further the overall cleanup mission."