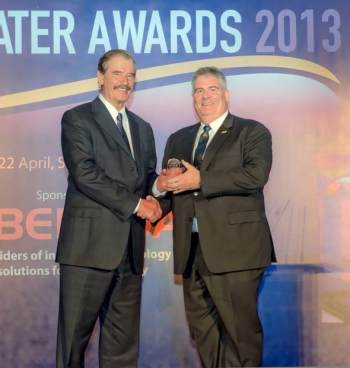 The award recognized CH2M HILL for its excellence in the international water industry. CH2M HILL's Water Business Group's International Client Sector Director Peter Nicol accepted the award from Global Water Awards Speaker and former Mexican President Vicente Fox.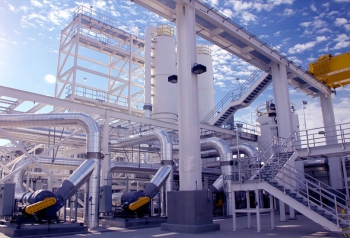 The 200 West Pump and Treat System design and construction teams utilized energy efficient and sustainable design elements, including recycled steal. This photo shows the system's processing equipment. Approximately 539 tons, or 5 percent, of the steel used in construction was recycled.
RICHLAND, Wash. – A groundwater treatment system at the Hanford site is in the international spotlight and is being called a technological marvel.
The 200 West Pump and Treat System pumps groundwater through wells and removes contaminants from a four-square-mile area near the center of the site in southeast Washington state. EM's Richland Operations Office and its contractor, CH2M HILL Plateau Remediation Company, began operating the system in 2012.
The project received The Water and Wastewater Project of the Year Distinction Award at the Global Water Summit in Seville, Spain. The event is a major gathering of water leaders worldwide. The award recognized the great innovation of the team in optimizing the physical and environmental footprint at the 200 West Pump and Treat System. Keeping the facility footprint small was part of the effort to design and build a system that would have a reduced impact on the environment while it removes tons of contaminants from Hanford's groundwater and remediates the area of contamination.
The centerpiece of the treatment system is the largest groundwater treatment facility on the Hanford site. The facility is designed to treat seven major contaminants of concern: carbon tetrachloride, trichloroethylene, total chromium, hexavalent chromium, nitrates, uranium and technetium-99. The uranium treatment portion is currently being added. Following treatment, the water is injected into the aquifer to create a barrier to contain contamination and push contaminated groundwater toward the extraction wells.