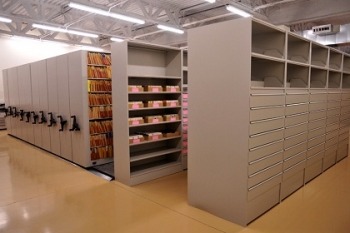 Hanford, WA - As a result of the Office of Civilian Radioactive Waste Management (OCRWM) records storage requirement for a 2 hour fire rated records storage building, a team comprised of DOE/Mission Support Alliance, LLC (MSA) members was formed to identify the path forward. This team looked at many alternatives and determined that a newly constructed records storage facility with a 2 hour fire rating was the best option. Also, the new facility needed to meet the National Archives and Records Administration (NARA), NQA-1 and OCRWM record's storage facility requirements.
The newly constructed records storage facility (+12,000 sq.ft) with a capacity to house up to 25,000 cubic feet of records is located in the 3212 building of the 300 Area at Hanford. Construction was completed on July 31, 2010 which was 3 weeks ahead of schedule. The new facility replaces the nearly 60 year old non-compliant records storage facility located in 712 building, which was near the Federal Building.
Also, the 3212 facility exceeds the records storage requirements for NARA identified in 36 CFR 1234, Subpart B and OCRWM. The "void-filled" concrete blocks creating the walls of 3212 nearly double OCRWM two hour fire rating requirement.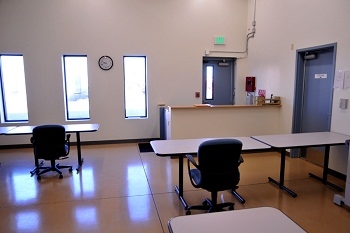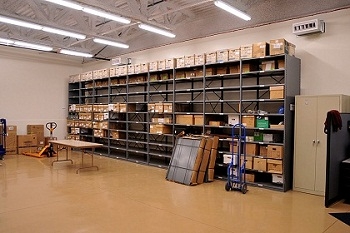 The relocation activities for the inactive record boxes to the newly constructed records storage facility started in August and was completed in early October, ahead of schedule. The transfer of the OCRWM records to the compliant records storage facility was the first collection of boxes transferred to 3212. The OCRWM corrective action plan required that the records be relocated prior September 15, 2010. They were relocated ahead of schedule, on August 30, 2010.
The second collection of boxes relocated was the classified boxes. This collection has been relocated into the new secured storage facility within the 3212 building.
15,000 record boxes have been relocated and shelved in the 3212 building.
Additionally we have plans to relocate +4000 record boxes of employment type records from the Seattle Federal Record Center, to support the Energy Employee Occupational Illness Compensation Program Act (EEOICPA) program in verifying on-site employment for the claimants.
The construction of the new storage facility aligns with the Hanford vision to reduce the footprint, as well as, reducing the occupancy of buildings that do not meet today's energy efficiencies requirements. In addition, the new records storage facility exceeds the American Society of Heating, Refrigerating, and Air Conditioning Engineers (ASHRAE) standards for energy efficiency.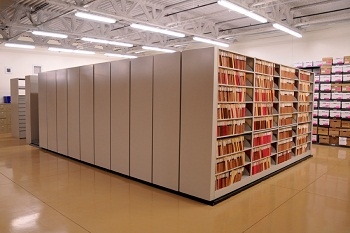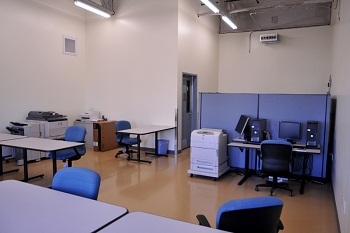 The 712 Building is scheduled to be vacated by the end of February 2011.