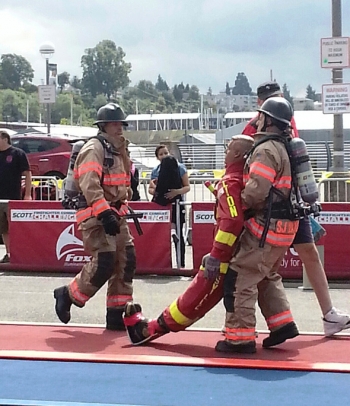 Hanford Fire Department Lt. Anthony Lovato, Jr. (left) urges his teammate, Capt. Sean Barajas, to carry the 175-pound life-sized dummy across the finish line at the Scott Firefighter Combat Challenge in Everett, Wash.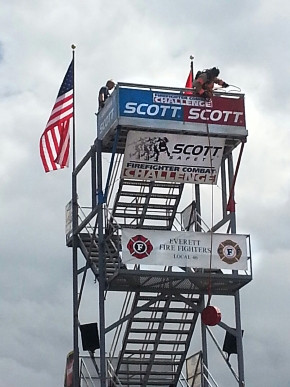 Hanford Fire Department Lt. Anthony Lovato, Jr. performs the 40-pound tower hoisting leg of the Scott Firefighter Combat Challenge in Everett, Wash.
EVERETT, Wash. – Climbing a five-story tower isn't an everyday experience for EM's Hanford site firefighters, but it is one of the skills they must master in their job.
Hanford firefighters, Lt. Anthony Lovato Jr. and Capt. Sean Barajas, competed in this year's Scott Firefighter Combat Challenge using many of their firefighting skills.
Each year, hundreds of participants from U.S. and Canadian fire departments take part in the annual challenge, which encourages firefighter fitness and teamwork and demonstrates the profession's rigors to the public.
Wearing gear and a breathing apparatus, pairs of competitors race head-to-head as they simulate the physical demands of real-life firefighting by performing a series of five tasks. They include climbing a five-story tower while carrying a 42-pound backpack; hoisting up a 40-pound weight using hand-over-hand motion; simulating entry into a burning building; dragging a hose; and rescuing a life-sized, 175-pound "victim" as they race against the clock and opponents. 
Lovato and Barajas competed in the Open Male Tandem competitions in Everett and in Pendleton, Ore.  In Everett they placed fourth with a time of one minute and 54 seconds, and took first place in Pendleton with a time of one minute and 58 seconds. Those qualifying with a time of a minute and 45 seconds in the male tandem go on to compete in the world championships in Las Vegas. Lovato competed in the world championships in 2008 with then partner Hanford firefighter Maggie Click. 
"We really enjoy competing in this challenge as it tests stamina, and keeps us in shape, allowing us to promote firefighter fitness through our job-related skills," said Lovato.
Lovato teamed up with Barajas in 2009 and in 2011, learning more and improving their time with each competition. They joined forces for a third time this year, competing with hundreds of firefighters across the nation and Canada.
"We are proudly representing the Hanford site and this helps put Hanford on the map for those who don't know about us. It's a great competition, and we look forward to doing it again next year," Lovato said.