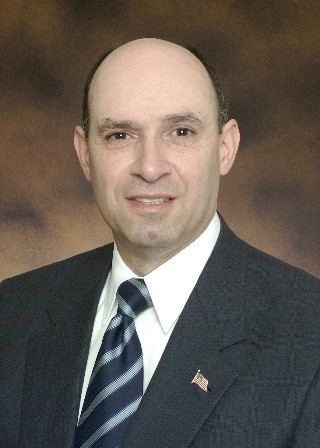 James Rispoli served as EM Assistant Secretary from 2005 to 2008
WASHINGTON, D.C. – In an occasional EM Update series, we feature interviews with former EM Assistant Secretaries to reflect on their achievements and challenges in the world's largest nuclear cleanup and to discuss endeavors in life after EM. Former EM Assistant Secretaries interviewed for the series include Leo Duffy, Thomas P. Grumbly, Dr. Carolyn L. Huntoon, Jessie Roberson and Dr. Inés Triay. The last in the series is the following interview with James Rispoli.
Rispoli began his career in the military and transferred to the Civil Engineer Corps of the Navy in 1974. He was assigned to various facilities and environmental positions in the U.S. and overseas. In the early 1990s, he directed the Navy's Environmental Cleanup Program. After retiring from the Navy, he served as president of M&E Pacific and managing principal of Dames & Moore — both engineering and environmental services companies in Hawaii. He then joined DOE as a career executive in 1999. From 2005 through 2008, Rispoli led EM as Assistant Secretary. He is a professional engineer licensed in five states and an American Academy of Environmental Engineers and Scientists Board Certified Environmental Engineer.
What are you doing currently for your professional work?
In January last year, I transitioned from being the president of Project Time & Cost, LLC for three years to a new lifestyle as a part-time executive advisor. Project Time & Cost, LLC is an engineering company that services a number of clients, among them DOE, and included in that is the EM program. I am also a professor of practice at North Carolina State University's Center for Nuclear Facilities and Structures, so I am enjoying a relatively new lifestyle where I am part time with a company and part time with the university. The company is a project management and construction management company, having provided support to DOE for over 20 years. In my company role, we provide services to DOE and EM in the area of project management, which includes cleanup and construction projects. At the university, I teach project management and construction management, with a focus on nuclear projects. What I do supporting DOE in PT&C and as a professor are actually closely aligned in area of expertise.
Where do you live now?
I live in Raleigh, N.C.
How do you view your term as the EM Assistant Secretary?
I think I was blessed in my life with having fantastic jobs, but I would have to say that being the Assistant Secretary had to be the highlight of my profession. It was a great job with an important mission and great people, both the federal employees and contractor teams that we work closely with. I view it with great satisfaction. This position was something really special.
What was your greatest achievement as EM Assistant Secretary?
I actually have two. Obtaining and maintaining a very good safety record for the benefit of the workers, which is No. 1. No. 2 is that when I first became the Assistant Secretary, we had 103 projects and a very low percentage of them were on cost and on schedule. We put a strong focus on improving the way we manage those 103 projects. Over time, we were able to get our ratio of success to above the 90-percent level so that 90 percent of our projects were on cost and on schedule. That was a pretty significant accomplishment and it didn't happen overnight. But it took a lot of people working very hard for a couple of years to get to the improvement level that we obtained. We maintained that level for the last several months before the end of my term.
What were your biggest challenges?
The biggest challenge is that it is a very complex program. What the EM program is trying to do is protect the United States public, protect the environment and certainly protect the workers that are in the cleanup program. I think the challenge is that we are doing probably some of the most hazardous work that can be done and yet we do it safely. Thanks to a lot of great support from the DOE staff at headquarters and the field and our contractor community, we attained a level of safety that protected the workers performing this hazardous work. I must mention that I have seen the current numbers, and that persists today. This is a very noble mission and safety is integral to it.
What differences do you see in EM now and when you were the EM Assistant Secretary?
I see a good constant, which are the many dedicated, good people that are working hard to do a very difficult job. My favorite saying back then was, 'Our only asset is our people.' It's true. You're doing this very difficult work because you have very dedicated people throughout the complex. This has been a constant and there are still many of the same very dedicated people working here. Some changes that I have seen are that a number of projects that we had under way during my time have been finished.
What misperceptions do people generally have about the program and about the EM Assistant Secretary?
One misperception that we had to deal with would be the establishment of target dates to finish projects. Many people would think that there is no risk to that. But we have to realize that because of the complexity of what EM does, a lot of these proposed target dates are at risk because you are not sure if you have the technology and future years' funding. We always work to do better, but one of the misperceptions is that when you give a date, that date becomes a date certain and that's never the case because anything could happen. You never sacrifice the safety of the worker to make a date.
How has your experience as the EM Assistant Secretary helped you in subsequent endeavors?
What has helped me the most has been to better understand the nuclear aspects of doing construction, cleanup and deactivation of facilities. The nuclear aspect was something that I was unfamiliar with. That has greatly helped me with my work subsequent to working for the DOE because now I am a professor in the Center for Nuclear Energy Facilities and Structures at North Carolina State and I wouldn't have been there if I didn't know something about nuclear facilities. 
Did you take any interesting trips while you were EM Assistant Secretary?
I took many interesting trips, visiting all of our EM sites where you could see DOE employees and contractors doing tremendous work. The most rewarding ones were where we would have a public ceremony to celebrate an actual completion of a major project of the sites. The public would be invited in and they would get to enjoy the success as well that resulted from so many people working hard to complete the project. There were several that were particularly memorable, but one would be going out to Rocky Flats. It had been an entire industrial, nuclear city that is now a wildlife refuge. Everything is gone. To go out there when that was finished was a major transformation. Fernald in Ohio was also another similar cleanup effort. Both of these cleanups were awarded the Project Management Institute's Project of the Year Award.
Do you have any personal accomplishments that you would like to talk about?
I just had a great career and enjoyed every phase of it. Beginning in the U.S. Navy, this took young people and turned them into better leaders. In the private sector, I had some great jobs, including the job that I am still with. But the EM job topped all of it. I would say that I was blessed with some really great opportunities.