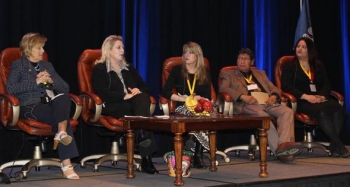 Shelly Wilson, third from right, participates in a roundtable discussion at the Intergovernmental Meeting with the DOE in New Orleans this month. Also pictured are Maryland Delegate Sally Jameson, left to right, Office of River Protection Deputy Manager Stacy Charboneau, Willie Preacher, Director of DOE-related projects for Shoshone-Bannock Tribes, and Eddy County, N.M., Commissioner Roxanne Lara.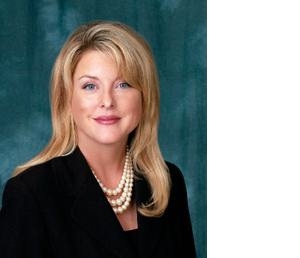 Shelly Wilson has been working with the Savannah River Site for more than two decades, and for the past seven years she has worked as the South Carolina Department of Health and Environmental Control (SCDHEC) Federal Facilities Liaison.
AIKEN, S.C. – For more than two decades, Shelly Wilson has been working with the Savannah River Site (SRS) as an employee of South Carolina Department of Health and Environmental Control (SCDHEC). For the past seven years she has worked as the SCDHEC Federal Facilities Liaison. In this role, Wilson ensures the state and EM program at SRS work collaboratively, and she says she applies pressure where needed to drive down risks. The state has hazardous waste regulations that require comprehensive cleanup of Cold War legacy waste at SRS. A host of other state regulations involving air, waste water, storm water and other waste areas also apply to the site. Wilson recently talked with EM Update about her experience working with the EM program at SRS:
How has the relationship between SCDHEC and SRS evolved over the years?
Although we have had our combative moments, our overall relationship is very good, and characterized by frequent communications. We have invested heavily in a partnership-based team approach to cleanup and that carries over to many other areas.
In the 1990s, DOE convinced us to try a partnering mode. That's been very successful; 3,229 cleanup milestones have been met continuously since 1993 without missing one. We have cleanup decisions at 77 percent of contaminated areas at SRS. I give you those numbers to show that we work very well together and produce results.
Our relationship is characterized by communications. And at this stage in our relationship, I can usually expect that before SRS goes down any path affecting the environment, that they usually talk it over with us first to get our perspective. And what they can expect in return from us is a willingness to discuss and consider all the options. In other words, they can expect to hear from us. That open communication is key to our relationship.
Can you relate your experience working as a liaison for projects such as the closure of Tanks 18 and 19, two of the Cold War hazardous waste tanks at SRS?
That has been one of the best experiences of my career so far. I have worked with some truly amazing people. The thing that stands out for me is that we went from being stuck to the beginnings of victory.
If you remember, around the year 2000, we were mostly at a standstill with any progress on these tank closures. In 2005, we jointly worked with common goals and values with Savannah River Site and SCDHEC and the Governor's Nuclear Advisory Council, and also the Defense Nuclear Facilities Safety Board, and that was foundational in crafting a technical plan for moving forward. Couple that with leadership from U.S. Sen. Lindsey Graham on Section 3116 (the Ronald W. Reagan National Defense Authorization Act for Fiscal Year 2005), and we finally had enough to start moving forward.
We chartered a regulatory roadmap that ensures all requirements are addressed as we go through the decision-making process with important pauses for public input. Although it was cumbersome the first time through, now that we have blazed the trail, subsequent closure decisions can follow the same pathway on a faster timeframe.
Can you describe any historic turning points in EM work at SRS?
Three things: One is when the Federal Facilities Agreement (this was established to address cleanup decisions for soil and groundwater) was signed in 1993, the starting point for measuring the 3,229 cleanup milestones.
The second turning point was approval of the site's treatment plan (this set up a plan for legacy waste treatment) in 1995.
And the third turning point was when we developed common values and principles (to address high-level waste) in 2005.
The common thread between all three is that from those specific turning points we developed a path forward that met needs of both DOE and DHEC. The path forward was a cleanup and risk reduction path.
Tell us, in your opinion, the major EM milestones and accomplishments at SRS.
Tanks 18 and 19 closed this year. That's amazing. Another thing we're incredibly pleased with is disposal of legacy transuranic (TRU) waste. Right now, they've disposed of 86 percent of that legacy TRU, well on the way to almost being done. A third thing we're really proud of is 77 percent of contaminated areas have cleanup decisions, a measure of strong cleanup progress.
Has SRS developed innovative solutions for reducing risk or otherwise solving problems? If so, can you please describe them?
SRS has been very innovative at finding ways to reduce risk and solve problems. One area is transuranic waste. SRS started out with 11,000 cubic meters of legacy TRU and at the beginning we all — SRS, contractors and DHEC, all of us — decided to focus dollars that were available on disposal of TRU rather than storage because we hoped that storage would be short term.
So, SRS had a great idea of using existing buildings (such as H Canyon) to package and treat the waste for shipment to the Waste Isolation Pilot Plant rather than new construction. We at DHEC determined we had sufficient regulatory flexibility to go with this option. By using these existing buildings, the dollars went into preparation for shipment rather than construction of short-term facilities. That strategy has paid off big for us because, as I mentioned, they are 86 percent done and shooting to finish it next year.
What, in your opinion, are the biggest unresolved challenges at SRS facing EM?
The biggest challenge for us is high-level waste. We've made significant progress on soil and groundwater and TRU and while we've been working hard on high-level waste, there are still about 36 million gallons of highly radioactive and toxic liquid waste in aging tanks.
We've been thrilled to celebrate recent victories with Tanks 18 and 19 but we know we have to stay focused. We have a regulatory and technical roadmap all set up and we need to press forward. It's a challenge but we are ready to do our part.