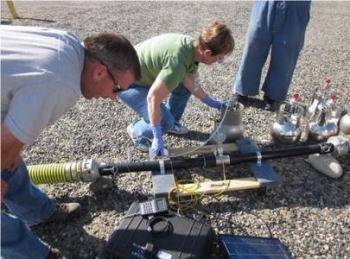 Data collection takes place during a field demonstration at the Hanford site as a case study of the analysis approach.
Through a collaborative approach between the EM Headquarters' Office of Groundwater and Soil Remediation, the Richland Operations Office and the Pacific Northwest National Laboratory (PNNL), investments are being leveraged and integrated in applied research and site operations to provide scientifically defensible end states for environmental remediation of volatile organic contaminants in the vadose zone. This recent investment of $500,000 led to an effective strategy for remediation at one location that provides a cost savings of $6.35 million.
Through this integration of investments, scientists and engineers within the Deep Vadose Zone – Applied Field Research Initiative (DVZ-AFRI), led by PNNL, collaborated with Hanford Site contractor, CH2M HILL Plateau Remediation Company, and the University of Arizona to develop and demonstrate a science-based approach to define appropriate remediation end points for volatile contaminants in the vadose zone.
The approach was demonstrated at the Hanford site to define an appropriate remediation end point for a soil vapor extraction (SVE) system treating carbon tetrachloride. Recently, it was incorporated into the Hanford Record of Decision for Operable Unit PW-1, 3, 6 and, as a result, a revised operational strategy for the SVE system has been implemented. The strategy provides a sound technical basis for terminating SVE operations over the next several years.
This new operational strategy for the SVE system substantially decreases active operations over the next five years and provides the cost savings of $6.35 million compared to baseline plans developed prior to establishing the SVE termination criteria.
Additionally, the framework is being applied at Los Alamos National Laboratory to determine whether or not active remediation is needed for identified vadose zone contamination, to set remediation goals, and to negotiate with the New Mexico Environment Department on appropriate monitoring strategies.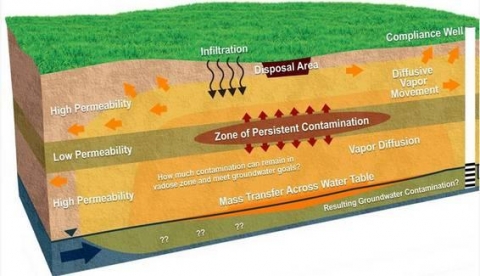 This conceptual model framework offers an understanding of the impact of persistent vadose
zone contamination on the groundwater.
The national impact of the effort is being further realized through collaboration with DOE, the U.S. Environmental Protection Agency and U.S. Army Corps of Engineers scientists and adaptation of the approach to provide guidance for defining the end states at other sites with volatile contaminants in vadose zone environments.
SVE is a baseline remediation approach applied at many sites to remove volatile contaminants from vadose zone environments.
While SVE generally removes contaminants from most parts of the vadose zone, many sites have low-permeability heterogeneities that limit treatment efficacy and leave residual, persistent zones of contamination. Under these conditions, evaluation of SVE performance is necessary to determine if the system needs to be transitioned to another approach or whether vadose zone contamination may be present at sufficiently low levels that active remediation is no longer warranted and the site should be transitioned to long-term monitoring.
A key part of developing an appropriate end state is having the right tools to modify the existing decision process. This is one tool in EM's development portfolio for use in shaping future decisions.