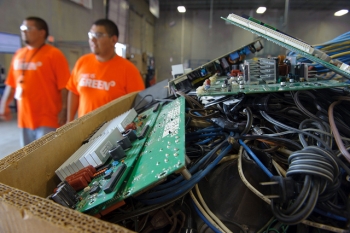 Every year, Americans generate almost 2.5 million tons of used electronics, which are made from valuable resources such as precious metals and rare earth materials, as well as plastic and glass. Photo: U.S Environmental Protection Agency
WASHINGTON, D.C. – EM is talking big steps to reduce its electronics footprint with exceptional results. EM sites won the majority of awards given to DOE for their outstanding performance in the 2012 Federal Electronics Challenge (FEC). This Environmental Protection Agency initiative
encourages federal facilities to buy greener electronics, lessen their impact during use and discard outdated equipment in an environmentally safe way.
EM's accomplishments in sustainable electronics have made DOE a leader among federal agencies in sustainable electronics. If EM was a freestanding agency, it would rank second in total number of FEC awards received within the entire federal government. EM big winners include:
Sometimes doing little things can make big difference. In order to win the FEC awards, sites made sure electronics were recycled properly, implemented energy-saving policies for computers and used electronic systems to track waste shipments and reduce paper usage. Furthermore,
lessening the Department's electronics footprint can save taxpayers money by reducing power consumption and pollution.