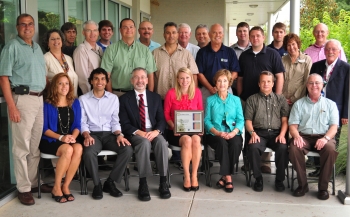 DOE and UCOR employees held an event today celebrating the recent contract reconciliation.
OAK RIDGE, Tenn. – At a ceremony today, Oak Ridge's Environmental Management (EM) program and its prime contractor, URS | CH2M Oak Ridge, LLC (UCOR) celebrated the completion of the site's reconciled cleanup contract. The newly aligned contract accurately specifies the projects and activities that the site's cleanup contractor will perform.
"The speedy completion of this process is a testament to DOE and UCOR contract teams and managers," said Sue Cange, acting manager of the Oak Ridge EM Site Office. "Last year, our team completed the selection process for the $2.2 billion contract in only 9 months, and today we are celebrating yet another impressive achievement."
Historically, the reconciliation process has taken two or three years, according to Pat Timbes, UCOR project contract manager.
"We managed to accomplish this in 10 months," Timbes said.
After being awarded a major government contract, the incoming contractor begins the reconciliation process, which updates the contract's scope to reflect actual progress and any scope revisions since the final Request for Proposals (RFP). RFPs are a type of bidding solicitation that announces the funding, defines work, and specifies the contract terms necessary to complete a project.
UCOR assumed Oak Ridge's prime cleanup contract on Aug. 1, 2011, and began defining the differences between the contract proposal and the actual work that DOE assigned the company. The most substantial changes included the addition of the K-1070-B Burial Ground remediation at the East Tennessee Technology Park (ETTP), removal of the contaminated Tank W-1A at Oak Ridge National Laboratory, and early execution of the K-27 Building decontamination and demolition project at ETTP.
UCOR submitted all of the proposals that showed the differences between the RFP and the actual work completed when UCOR assumed responsibility for the contract in January. DOE conducted technical evaluations and cost analyses on all proposals. DOE and UCOR concluded negotiations and signed the final modification on May 31.
UCOR is DOE's Environmental Management contractor at the Oak Ridge Reservation. The URS-led team is responsible for deactivation and demolition of the K-25 facility at ETTP, as well as other specific scopes of work at ETTP, the Y-12 National Security Complex, and the Oak Ridge National Laboratory.