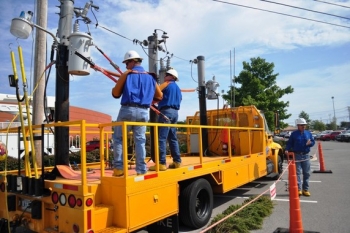 Participants in Safety Fest Tennessee receive a hands-on demonstration about electrical safety.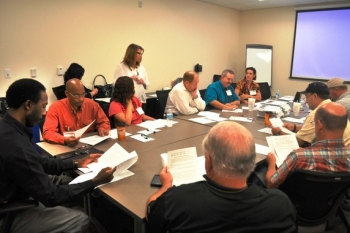 This year's event offers 40 safety courses. Participants discuss relevant safety issues and best practices.
OAK RIDGE, Tenn. – Oak Ridge's EM program is participating in this week's Safety Fest Tennessee, an annual safety training event for the region's workplaces.
The event's training includes 40 topics, most of which align with EM's diverse field work. They include combustible dust, confined space, electrical, power tool, scaffolding, trenching and welding safety. All classes are free to help attract and educate as many companies and employees as possible.
"These forums and training courses are extremely valuable for our employees and leadership," Oak Ridge's EM Manager Mark Whitney said. "They provide our employees exposure to safety issues happening nationally, and they help us learn and plan from others' experiences. As a result, we proudly advance these programs due to their impact on our safety record and culture."
The annual event is hosted by the Oak Ridge Business Safety Partnership, a community-led effort that began in 2004 and focuses on worker safety at DOE's three sites in Oak Ridge, which are the Y-12 National Security Complex, East Tennessee Technology Park (ETTP) and Oak Ridge National Laboratory (ORNL). The local EM program has proven to be one of the fest's most ardent supporters.
"We could not hold Safety Fest Tennessee without the integral involvement of and partnership with Oak Ridge's EM program," said Jenny Freeman, one of the event's planners. "Our community is fortunate to have the EM management team's commitment."
Apart from the annual training event, the partnership holds quarterly community safety forums that are heavily attended by Oak Ridge's EM personnel. Private sector and government employees participate to learn about safety programs from DOE sites and commercial companies. In addition, they are briefed on lessons learned and receive relevant safety messages from the contracting community.
This is the second year Oak Ridge has hosted the fest. Last year, Whitney spoke at it, and he has presented numerous times at the partnership's quarterly forums. He discussed safety concerns, Oak Ridge's safety statistics and the challenges of working safely at the site's three diverse cleanup areas at Y-12, ETTP and ORNL.