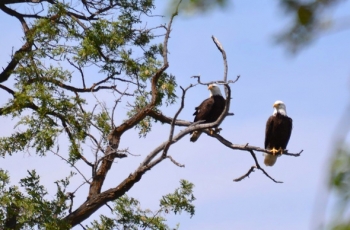 Two adult bald eagles sit atop a tree on the Hanford site near the Columbia River. Hanford biologists recently counted 60 eagles on the site, the most ever at Hanford at one time.
WASHINGTON, D.C. – A federal council recently recognized two EM sites for efforts to protect migratory birds.
The Council for the Conservation of Migratory Birds, which includes representatives from several federal agencies, gave honorable mention to the Hanford and Oak Ridge sites for the 2014 Presidential Migratory Bird Federal Stewardship Award.
At the 586-square-mile Hanford site in Richland, Wash., EM and contractor Mission Support Alliance provide compliance oversight for the Migratory Bird Treaty Act through its Public Safety and Resource Protection program. This is the second year Hanford has received this award.
While work at Hanford mainly focuses on cleanup, this award again illustrates the continued dedication to environmental stewardship by DOE and its contractors.
At Oak Ridge, DOE championed the effort through partnerships with the Tennessee Wildlife Resources Agency, UT-Battelle, the management and operating contractor for the Oak Ridge National Laboratory, and URS | CH2M Oak Ridge, the primary cleanup contractor at the site.
The Department and its partners manage wildlife on the 33,500-acre Oak Ridge Reservation by following a wildlife management plan, which includes numerous projects to protect migratory birds and their habitats. These local efforts began in 2006 with incredible results.
The decline of interior forest is one of the primary reasons for biodiversity loss, especially in migratory birds. The Oak Ridge Reservation is crucial because approximately 70 percent of the federal land is forested. It is recognized as the largest contiguous protected land ownership in the region, making it a critical reserve for interior forest and nesting habitat for neo-tropical birds.
One of the most important ecological enhancements occurred in 2009 with the major renovation of a large pond at the East Tennessee Technology Park. The project, which was led by Oak Ridge's Office of Environmental Management, restored the pond to its natural conditions and allowed growth of native vegetation in the surrounding fields. With a return to the area's natural settings, employees monitored vast increases in wildlife diversity. By 2013, the area attracted 28 wintering bird species, compared to seven in 2009.