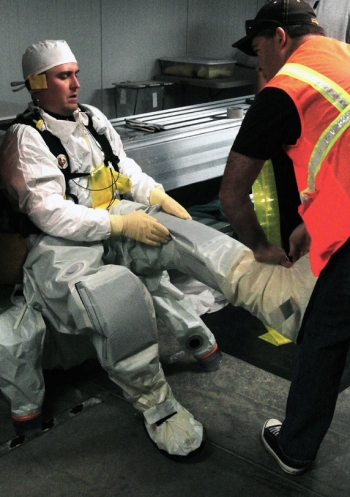 Members of the Hanford site team observe Advanced Mixed Waste Treatment Project workers at the Idaho site putting on protective equipment. The Level B protective suit is custom-designed to provide maximum flexibility and protection against potential workplace hazards. The containment suit, coupled with the breathing equipment shown in the photo below, enables work to be conducted safely in high-hazard atmospheres.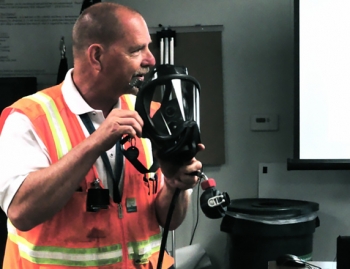 Advanced Mixed Waste Treatment Project Industrial Hygiene Manager Roger Raymond demonstrates breathing equipment. The specially-designed breathing equipment includes a primary face-piece and a second stage face-piece regulator, which is attached to a manifold configured with dual air supply (main and secondary), a vortex cooler, and an escape bottle. This configuration allows workers to safely enter atmospheres in excess of 100,000 derived air concentration levels.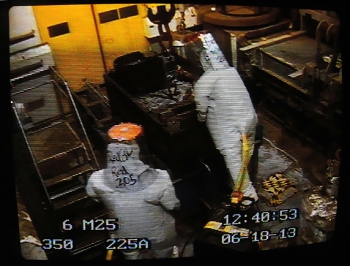 Members of the Hanford site team observe via remote video as Advanced Mixed Waste Treatment Project employees in protective gear work.
RICHLAND, Wash. – A team from Hanford visited a waste processing facility at the Idaho site to observe equipment that may assist them in entering highly contaminated areas of the Plutonium Finishing Plant (PFP), a complex nuclear decommissioning project.
The team from CH2M HILL Plateau Remediation Company (CH2M HILL), which supports EM's Richland Operations Office, learned about the supplied breathing air system and protective suits used by employees of EM's Advanced Mixed Waste Treatment Project (AMWTP).
"This is a positive example of how we partner with other DOE sites to share lessons learned and applied technologies to deliver cleanup as safely and efficiently as possible," DOE Senior Physical Scientist for the PFP Closure Project John Silko said. "Involving employees in finding solutions to complete our mission to clean up these nuclear sites is an important part of the DOE safety culture."
Earlier this year, AMWTP marked a significant safety milestone when its 620 employees worked more than 14 million hours without a lost-time injury and safely and compliantly shipped more than 50,000 cubic meters of transuranic (TRU) and mixed low-level radioactive waste to a permanent disposal facility. TRU elements such as plutonium have an atomic number greater than uranium.
AMWTP workers use the supplied-breathing air system and protective suit for entering highly radioactive and chemically contaminated areas, including areas with airborne contamination. The Hanford team is considering using this equipment in PFP facilities where workers are dispositioning highly contaminated, pencil-shaped tanks.
"If we use this technology at Hanford, it will increase worker safety and comfort, help us get more work done and save time and money. This is great news for a project of this magnitude," Silko said. 
The equipment allows workers to perform their work in an environment that contains higher concentrations of airborne contamination. The equipment includes cooling systems to reduce heat stress on workers as they work in multiple layers of protective equipment.
"It's awesome. They have a first-class facility there," CH2M HILL Nuclear Chemical Operator Larry Monroe Jr. said of AMWTP. "There are a couple of applications where we can use the suit at PFP.  Having workers go and be involved was a good thing. By having workers go to Idaho, it showed CH2M HILL wants workers involved in safety."
The Hanford crew shared tools and lessons learned with AMWTP workers as well. They discussed how workers modified a respiratory device for safer use — an accomplishment that resulted in an award from the DOE Voluntary Protection Program.
The PFP workers returned to Hanford, where they will continue to evaluate the equipment with DOE health and safety experts for potential use at PFP.
The goal is to finish cleaning out and demolishing all PFP facilities in 2016.
For more details on AMWTP's application of the state-of-the art equipment, contact Roger Raymond with Idaho Treatment Group at (208) 557-6720.