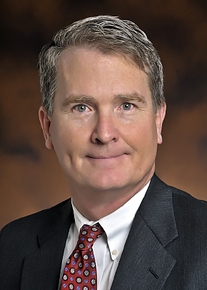 Lowell Ely recently retired as director of EM's Office of Project Assessment.
WASHINGTON, D.C. – Lowell Ely recently retired as director of EM's Office of Project Assessment, ending a federal career that spanned all phases of engineering, including design, construction and oversight of major projects.
Many EM employees admired Ely for his dedication to the EM mission, his caring attitude, sharp technical skills and excellent leadership qualities. They described him as a wonderful teacher and respected supervisor. The Office of Project Assessment is part of EM's Office of Acquisition and Project Management.
"Lowell has been an outstanding leader in our organization. He taught many of us about project management and encouraged us to grow in our roles. It has truly been an honor to know him and to work beside him during his DOE career," said Office of Project Assessment Project Planning and Evaluation Team Lead Rodney Lehman, who worked with Ely for 11 years. 
After graduating from the University of Maryland with a bachelor's degree in civil engineering in 1979, Ely worked as a design engineer for civil engineering projects from conceptual to final design at Sverdrup and Parcel Associates. In 1981, he joined the Naval Research Laboratory, where he was a project engineer and then a project manager, focusing on design and planning of construction projects and development of cost estimates.
Ely began his DOE career in 1986 in the assessment and validation branch of the Office of Project and Facilities Management, which is now a division of the Office of Acquisition and Project Management. He was the headquarters project manager for planning, management and execution of construction projects that cost up to $800 million.
In 1990, Lowell transferred to the Office of New Production Reactors, Office of Heavy Water Reactors, where he served as a project engineer before becoming a supervisor overseeing the design of heavy water nuclear reactors with total project costs up to $400 million.
Ely later managed facility consolidation projects in the National Nuclear Security Administration's (NNSA) Office of Weapons Complex Reconfiguration. He also worked in the Office of Science's Office of Laboratory Policy and Infrastructure Management and Office of Construction Management Support Division, where he had project management responsibilities for projects up to $1.2 billion and served on teams that performed reviews of project effectiveness.
In 2002, Ely became a federal project director in NNSA's Office of International Cooperation for the Zheleznogorsk Plutonium Production Elimination Project, which focused on the shutdown of a plutonium reactor and construction of a $570 million coal-fired power plant to provide heat to a city in Siberia, Russia.
He was promoted to the Senior Executive Service in 2006 and selected as director of the Office of International Cooperation. Ely worked in the Elimination of Weapons Grade Plutonium Production Program, which focused on the permanent shutdown of the last three operating Russian nuclear reactors that produced weapons-grade plutonium.
In 2008, Ely joined EM as director of the Office of Project Management Oversight, which later became the Office of Project Assessment. He oversaw the execution of EM projects, project peer reviews and monitoring and assessment of projects across all EM sites. He also served as a member of the Certification Review Board for federal project director certifications. During his tenure in this position, Ely served in a detail as EM Acting Deputy Assistant Secretary of the Office of Acquisition and Project Management.
"We all wish Lowell the best — good health and happy years," Lehman said.