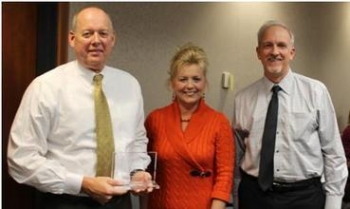 EMCBC Director Jack Craig, left to right, EM Executive Assistant Jillian Carter, who is EM's Feds Feed Families representative, and Senior Advisor for Environmental Management David Huizenga pause for a photo Nov. 8. Craig holds the "Teamwork Award" he and his staff received.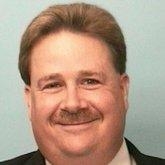 Savannah River Site Acquisition Operations Division Director David Hepner donated more than 1,000 pounds of food to the campaign.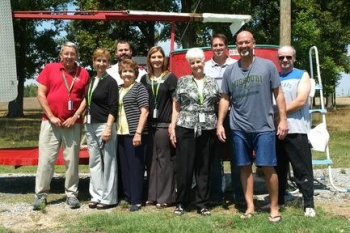 Participants in the campaign from the Portsmouth/Paducah Project Office gather in front of a dunk tank that helped draw in donors to the food drive.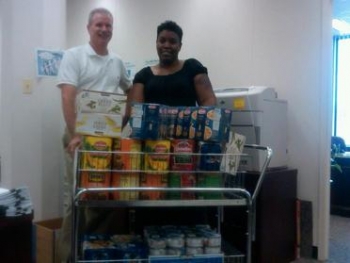 Barry Gaffney and Evette Dillon with EM's Office of Program Planning and Budget stand behind a portion of the office's donations to Feds Feed Families.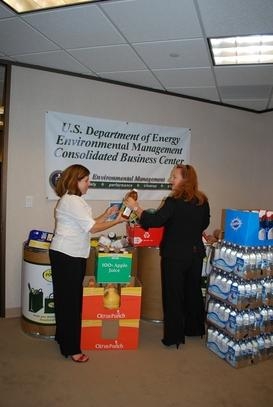 Kimberly Dellinger and Michelle Litmer with EMCBC prepare donations for the campaign.
WASHINGTON, D.C. – EM donated close to 50,000 pounds of non-perishable items to the Fourth Annual Feds Feed Families Campaign, easily surpassing its target of 19,120 pounds. All donations were delivered directly to food banks to provide goods to the needy.
Joining the ranks of the campaign's Hall of Fame and Heavy Hitter categories, numerous EM employees donated impressive amounts of food to this year's effort to alleviate the severe shortage food banks face in the Washington, D.C. region and greater U.S. Savannah River Site Acquisition Operations Division Director David Hepner and Environmental Management Consolidated Business Center (EMCBC) Director Jack Craig each donated at least 1,000 pounds of non-perishable goods, achievements that made them Heavy Hitters in the food drive.
Additionally, EMCBC staff members who took part in the drive donated the most non-perishable items — 11,736 pounds — of all participating groups at the various EM locations. Craig and his staff received the "Teamwork Award" for their outstanding effort.
In all, 58 federal organizations joined this year's campaign. Collectively, those organizations donated a total of 7,286,845 pounds of non-perishable items, exceeding last year's donations by almost 1.5 million pounds.
Federal organizations participating in Feds Feed Families are categorized by size: large, medium, small and petite. DOE, which is in the small category, donated 211,186 pounds of items to food banks in communities located across the country. The Department ranked sixth out of the 58 participating federal organizations, following five others in the large category.
The following staff members were recognized as Hall of Fame participants for individually donating at least 250 pounds of food to benefit needy families: Ann Thomas, Pauline Connor, Dave Neal, and Paul Daugherty at SRS; Kim Johnson, Ken Lewis, Elizabeth Rose, Jeff Williams, Lynn Chafin, Bruce Wynn, Mell Roy, Ralph Holland, David Arvin, T. J. Jackson, Jim Garbrell, Kathy Reck, Larry Kelly and two anonymous donors at EMCBC; and Hung-Cheng Chiou, M.E. Lea Chism, Richard Farrell, George Hellstrom, Margaret E. (Meg) Milligan and Edward Ziemianski at the Carlsbad Field Office.