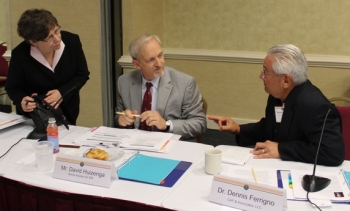 Associate Principal Deputy Assistant Secretary Alice Williams, left, and EM Senior Advisor Dave Huizenga, center, talk with Environmental Management Advisory Board Vice-Chair Dennis Ferrigno at the recent board meeting.
AUGUSTA, Ga. – EM leadership met with the Environmental Management Advisory Board (EMAB) recently to discuss a range of topics, from EM's fiscal year 2014 budget request to its technology challenges.
EM Senior Advisor Dave Huizenga shared the nuclear cleanup program's recent successes, such as the U.S. Government Accountability Office's removal of several EM projects from its high-risk list because of progress in their cost and schedules. Improving contract and project management has long been an EMAB focus. Dave Swindle and Brian Estes, co-chairs of EMAB's Acquisition and Project Management Subcommittee, commended EM for the improvements in a subcommittee report approved at the meeting.
Huizenga acknowledged EM's funding challenges and asked the board to advise the program on how to best harness its resources in an era of fiscal austerity.
"The real question we're wrestling with is how to deal collectively with this issue. EM is well positioned for success," Huizenga said. "Contracts are in place, workers are ready to go out there, our safety record is strong and improving and there is a lot of good news among the challenges. The trick right now is how to work closely and openly with our sites and regulators."
Huizenga has asked the board to advise EM on acquisition and project management, science and technology, risk and management excellence. Additional reports and recommendations on these topics are expected at the board's next meeting, tentatively scheduled for November 2013, in Washington, D.C.
EMAB is an independent, volunteer board that offers EM advice on complex-wide cleanup issues. Its 15 members include experts from a range of disciplines and community leaders who act as a sounding board for EM's managers, providing corporate advice.
Associate Principal Deputy Assistant Secretary Alice Williams presented on the importance of advancing cleanup technology and leveraging the science investments of DOE national laboratories and program offices to advance EM's mission. EM recognizes additional technology investments are needed to achieve significant savings. Williams said EM needs to find and implement the most appropriate technical solutions to these challenges.
Williams highlighted a number of exciting technology development initiatives, including the Advanced Simulation Capability for Environmental Management (ASCEM), the modeling capabilities allowing for more robust and standardized future performance and risk assessments for EM cleanup and closure.
Prior to the public meeting, board members completed a tour of the Savannah River Site (SRS) that included a biomass-fired cogeneration facility that replaced a 1950s-era coal-fired plant; H-Canyon, the only active nuclear chemical separations facility still operating in the U.S.; and liquid radioactive waste tanks. EMAB members were also welcomed by Don Bridges, chairman of the SRS Citizens Advisory Board, a local chapter of the EM Site-Specific Advisory Board.