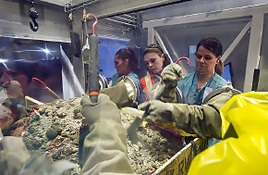 Workers treat sludge-bearing, transuranic waste from the Advanced Mixed Waste Treatment Project.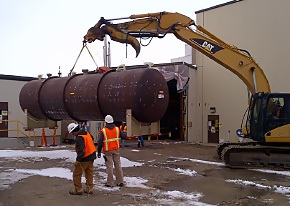 A tank at the Materials and Fuels Complex containing residual sodium is moved prior to waste treatment.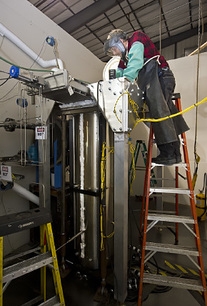 Distillation equipment is shown prior to transport to the Idaho site.

In these 2010 photographs, unexploded ordnance were collected and then detonated onsite at the Mass Detonation Area.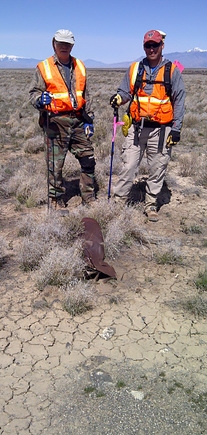 A shell is found during a walk down of the Idaho site.
IDAHO FALLS, Idaho – EM and contractor CH2M-WG, IDAHO, LLC (CWI) made significant progress in 2013 dispositioning transuranic (TRU) waste and helping ship it out of Idaho.
Since 2005, crews had been digging up buried TRU waste from a landfill and shipping it to EM's Waste Isolation Pilot Plant in New Mexico. In late 2012, waste exhumation was suspended due to budget challenges. However, EM and CWI identified efficiencies within other cleanup projects at the Idaho site, allowing for the resumption of waste exhumation in late September 2013.
Also in 2013, EM and CWI made great progress in treating sludge-bearing, TRU waste from the Advanced Mixed Waste Treatment Project, which is responsible for dispositioning and shipping 65,000 cubic meters of TRU waste out of Idaho. Workers repurposed the Pit 9 retrieval facility to treat this special-case waste, saving taxpayers as much as $20 million over the cost of building a new structure.
Innovative Processes for Treating Challenging Waste Form
EM and CWI made headway in 2013 treating and removing a challenging metal sodium that remains at the Idaho site from when the material was used as a reactor coolant.
Crews safely completed liquid sodium treatment of residual waste in three storage tanks. The process using citric acid solution has subsequently been patented.
In 2014, CWI will use distillation technology, a method of separating mixtures through a heating process, to separate about 100 pounds of sodium from metal and debris that's been designated as remote-handled waste because of its high-activity level. The material will be heated, and vapors will be drawn from the debris. Sodium vapor will then be condensed back to a metal solid, collected, and sent off site as mixed low-level waste for treatment and disposal.
Ordnance Removal Progress
The Idaho site was once a blast — literally.
In 2013, EM and CWI completed an ordnance investigation that spanned two decades at the Idaho site, walking over 1,100 miles to survey munitions and explosives left over from when the Arco Desert was a military installation used for training and explosives testing and research.
The tests helped determine if larger quantities of explosives could be stored in magazines without igniting adjacent magazines and whether distances between magazines could be reduced. The impacts of blasts on nearby structures also were tested.
Over the last 20 years, unexploded ordnance were collected and detonated onsite as part of Superfund interim actions, removal actions or record of decision actions. As the project enters completion, it will transition to a long-term institutional control program that will provide protection and educational resources to personnel and the public.