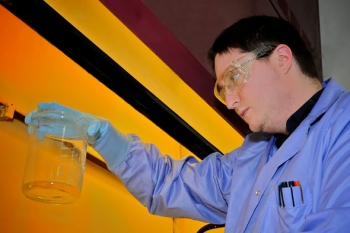 Jessie Welch performs laboratory work at WIPP Laboratories, which is a member of the National Analytical Management Program and the U.S. Environmental Protection Agency's Environmental Response Laboratory Network.
CARLSBAD, N.M. – A program led by EM's Carlsbad Field Office (CBFO) that coordinates analytical capabilities throughout DOE for response to potential national radiological incidents recently received recognition for the best-in-track poster at a waste management conference earlier this year.
The presentation, National Analytical Management Program (NAMP) Education and Training in Radiochemistry via Public Webinars, was selected from the conference's Track 8, which featured communication, education, and training. The annual Waste Management Conference in Phoenix focuses on the safe management and disposition of radioactive waste and radioactive materials.  
"We are extremely honored to have our poster selected as the best in track," said NAMP Technical Coordinator Berta Oates, who's the WIPP Performance Demonstration Program Manager with the Carlsbad Technical Assistance Contractor. "Our team worked hard to show the positive impact NAMP makes in the nuclear community."
The other team members who also worked together to design the presentation are employees with Nuclear Waste Partnership, the WIPP management and operating contractor; Science and Development Manager Mansour Akbarzadeh; DOE Office of Fuel Cycle Technologies Office of Systems Engineering & Integration Director Dr. Patricia Paviet; and Dr. John Griggs, director of the U.S. Environmental Protection Agency's National Analytical Radiation Environmental Laboratory, in Montgomery, Ala.
Waste Management Symposia Deputy Managing Director Gary Benda, who also chairs the Program Advisory Committee, notified NAMP presenters of the selection in April. "(It) demonstrated knowledge and understanding, and laid the foundation for future waste management endeavors," Benda said in congratulations on the NAMP presentation.
The team was required to submit a paper on its topic along with the poster. NAMP's presentation explained how NAMP provides training and resources to educate and strengthen the radiological workforce. Using webinars on topics related to nuclear energy, NAMP is accessible to a broad audience. Besides creating a worldwide classroom, the webinars offer unprecedented opportunities for interdisciplinary crosslinking and collaboration in education and research.
The first of these webinars was launched in April 2012. Since then, more than 4,150 people have attended or viewed the archived broadcasts.
"NAMP provides a valuable learning resource for individuals associated with radiological analysis," said CBFO Senior Strategist Oba Vincent, who serves as the program's director. "In this capacity, NAMP is recognized as a central focal point both within the DOE and also for outside agencies." CBFO has responsibility for WIPP and the National Transuranic Program. 
For more information on NAMP, visit the NAMP website.