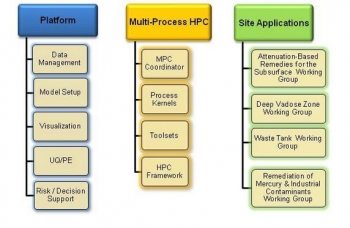 Figure 1: Advanced Simulation Capability for Environmental Management Thrust Areas.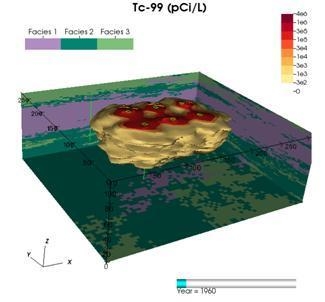 Figure 2: Spatial distribution of technetium-99 after the releases from the BC cribs using VisIt software on the Hanford Central Plateau.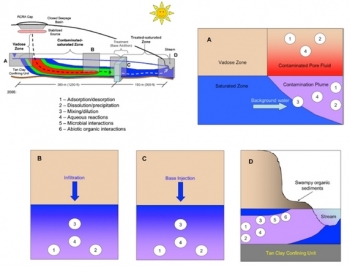 Figure 3: Conceptual model of uranium attenuation processes in the Savannah River F Area Seepage Basins plume, including adsorption/desorption (1); dissolution/precipitation (2); mixing/dilution (3); aqueous reactions (4); microbial interactions (5); and abiotic organic interactions (6).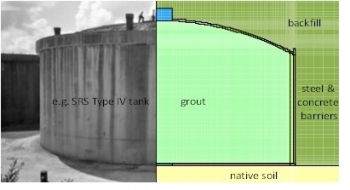 Figure 4: EM waste tank closure example.
WASHINGTON, D.C. – Since 2010, EM's Office of Soil and Groundwater Remediation has initiated technology development programs such as the Advanced Simulation Capability for Environmental Management (ASCEM) and the Applied Field Research Initiatives to enhance characterization and remediation technologies and create cost savings. New tools and approaches to clean and characterize contaminated sites help protect public and ecosystem health.
Investments in applied research and technology development are necessary because existing technologies are often incapable of accessing, characterizing and modeling complex contaminated environments or treating hazardous waste in a safe, efficient and economical manner.
ASCEM, a state-of-the-art scientific approach using an integration of toolsets for understanding and predicting contaminant fate and transport in natural and engineered systems, is designed to be both modular and open source and is divided into three thrust areas: Multi-Process High Performance Computing called Amanzi, Platform and Integrated Toolsets called Akuna, and Site Applications (Figure 1).
Amanzi provides a flexible, extensible simulation capability for ASCEM. It supports a range of process complexity in flow and reactive transport models and supports the graded and iterative approach to performance and risk assessment required by EM. Amanzi is designed and developed and has been tested on a range of computer architectures — from laptops to supercomputers — to ensure that advanced computational power is effectively used when accessed.
Akuna is a collection of Java-based graphical user interfaces supporting a complete modeling workflow, from model setup to simulation execution and analysis. The toolset is an open-source, platform-independent user environment designed to perform basic model setup, sensitivity analysis, inverse modeling parameter estimation and uncertainty quantification, launching and monitoring simulations, and visualization of both model setup and simulation results.
Features of the Akuna model setup tool include visualizing wells and lithologic contacts, generating surfaces or loading surfaces produced by other geologic modeling software, and specifying material properties, initial and boundary conditions and model output. The model setup tool uses LaGrit for generation of both structured and unstructured model simulation grids. Integration with WorldWind also enables a user to develop a model based on the initial visualization of the site surface topography and geomorphic features. Akuna supports a common workflow for developing and applying a numerical model in support of environmental management.
ASCEM will facilitate integrated approaches to modeling and site characterization that enable robust and standardized assessments of performance and risk for EM cleanup and closure activities. Due to its modular nature, ASCEM has the ability to incorporate and use existing modeling codes, making it applicable to DOE Offices of Science and Nuclear Energy.
Akuna and Amanzi capabilities are being tested and evaluated for EM applications through a suite of demonstrations conducted by the Site Applications Thrust. The Phase II Demonstration completed in September 2012 focused on showcasing integrated ASCEM capabilities. The Hanford Site Deep Vadose Zone (BC Cribs) served as an application site for an end-to-end demonstration of ASCEM capabilities on a site with relatively sparse data. Technetium-99 transport was simulated (Figure 2). Another aspect of the Phase II Demonstration included addressing attenuation-based remedies at the Savannah River Site F-Area to exercise linked ASCEM components under data-dense and complex geochemical conditions (Figure 3). A final part of the demonstration examined adaptive mess refinement for a representative waste tank (Figure 4). The Phase II Demonstration document is available for download at the ASCEM website.
ASCEM held its annual all-hands meeting at the Hanford site in January 2013 to present the Phase II Demonstration results to the ASCEM community and to refine the Phase III Demonstration plan. An ASCEM tutorial and user testing session is planned for 2013 to introduce the EM community to ASCEM and to gather feedback on the project. 
Additional information about ASCEM can be found at the ASCEM web site (ascemdoe.org), or by contacting the program manager, Dr. Justin Marble, justin.marble@em.doe.gov.