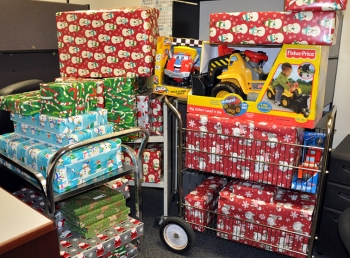 Pictured here are the Christmas gifts purchased with donations raised by EM staff for families of Nellis Air Force Base in Las Vegas.
LAS VEGAS – Six families from Nellis Air Force Base in Las Vegas recently received nearly $4,000 in donations — funds that helped provide a welcome relief during the holidays.
Donations raised by EM staff at the Nevada National Security Site (NNSS) went toward Christmas gifts for the families' 12 collective children, ranging from age 12 months to 8 years old. Donations also provided each family with a $100 gift card to the Nellis Commissary as well as a $100 gift card to a local retail store.
"It is really sad when you get the wish list, and the basic items like clothes, diapers and baby wipes are at the top of the list," said Andrea Hall, senior operations specialist for National Security Technologies, LLC (NSTec). NSTec serves as the management and operating contractor for the NNSS.
Though distributed last month, the donations were raised back in August 2012 during an annual safety fair at Area 5 Radioactive Waste Management Complex at the NNSS. The event brought together approximately 120 EM contractor staff and support personnel who shared information on worker and equipment safety as well as personal health.
The event also provided an opportunity to raise awareness about the economic hardship of military families, some of whom live at or below the poverty line.
"A surprising number of airmen at Nellis are struggling to make ends meet," Hall said. "We feel it is our responsibility to help out."
And they did help out, en masse.
"Everyone participated in some way, from donating, to shopping, to unloading and wrapping gifts," Hall said.