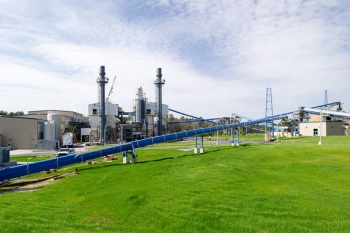 Spanning 34 acres, the Savannah River Site Biomass Cogeneration Facility is the culmination of 30 months and more than 600,000 hours of labor.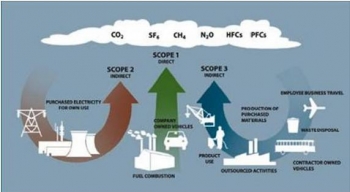 Sources of greenhouse gas emissions.
WASHINGTON, D.C. – EM has surpassed another DOE sustainability goal, this time reducing its carbon footprint by 44 percent, well ahead of the Department's 15 percent target for fiscal year 2012.
Supporting the Department's aggressive initiative to cut greenhouse gas emissions and reduce energy intensity, EM has committed to sustainability efforts to accomplish the nuclear cleanup mission in an environmentally sound and cost-effective manner.
EM's steep drop of 422,748 metric tons of carbon dioxide was due in large part to the startup of Savannah River Site's highly-efficient biomass cogeneration facility. One of the largest of its kind in the U.S., the facility replaced a 1950s-era coal-fired plant, significantly reducing pollutant emissions.
Emissions resulted from vehicles and equipment owned by EM or from the generation of electricity, heat or steam EM purchased. EM's savings equate to emissions from 79,898 passenger vehicles, 891,885 barrels of oil, or 15,980,000 propane cylinders for home barbecues.  
EM also exceeded DOE's goal to cut emissions from related sources not owned or directly controlled by EM. Those emissions were reduced by 17.9 percent, surpassing DOE's target of 3 percent for fiscal year 2012. EM cut 25,851 metric tons of carbon dioxide, equivalent to emissions from 4,886 passenger vehicles, 54,539 barrels of oil, or 977,151 propane cylinders for home barbecues. The decrease was primarily tied to a decline in employee commuting and business air and ground travel and lower electricity transmission losses.
The Department's annual sustainability plan focuses on eight goals, including reductions in energy intensity, which is a measure of building energy use per unit area. EM saw a 35 percent decrease in energy intensity in fiscal year 2012. 
EM also exceeded a DOE sustainability goal to reduce its vehicle fleet inventory in fiscal year 2012. With a 45 percent cut to its fleet, EM beat the Department's goal of a 35 percent drop by fiscal year 2013 a year early.