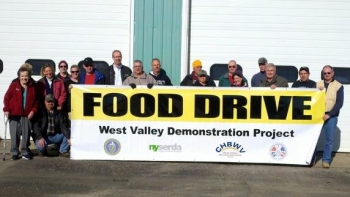 West Valley Demonstration Project has a reputation for strong community involvement. Pictured here are the volunteers who distributed food to seven food banks.
WEST VALLEY, N.Y. – EM employees and their contractor counterparts at the West Valley Demonstration Project (WVDP) have supported their local food banks for several years, and this year was no exception.
With just two days to go in the recent eight-day food drive, the employees and contractors at WVDP and other volunteers had collected only 43,982 pounds of food, falling short of their goal of 80,000 pounds.
However, they quickly increased efforts, and by the next day, the total jumped to 60,877 pounds. And by the final day of the campaign, they moved past their target by gathering more than 90,711 pounds of food for the needy, bolstered by the generosity of WVDP and community partners such as local food markets and a large retailer that offered discounted canned goods for the drive.
Three teams competed for the respected title of ―Biggest Donor‖ in the drive. The winning team, named ―Four Seasoning,‖ collected more than 11,706 pounds of food. More than 300 people volunteered for all three teams, including 36 EM employees and hundreds of employees from EM contractor, CH2M HILL B&W West Valley, and its subcontractors. Twelve representatives with New York State Energy Research and Development Authority also participated. Team members supported the drive by donating cash or food items and taking part in a chili cook-off challenge.
When the drive was finished, a team of volunteers distributed the 90,711 pounds of food to seven food pantries in the communities of Little Valley, Cattaraugus, Springville Trading Post, Springville Barnsted, Delevan, Franklinville and West Valley.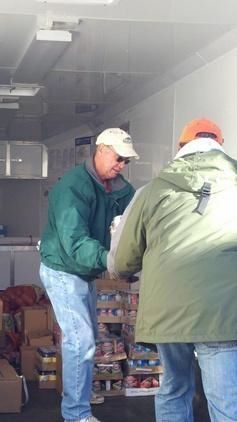 Volunteers deliver food items to a local food bank following the recent drive.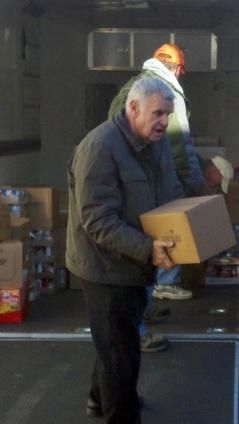 Grover Rieflera, a resident of the community, helps distribute the food collected in the food drive.
According to the Food Bank of Western New York, 6,000 additional families received its assistance this year while donations from manufacturers dropped by 30 percent. Also, federal funding for food programs was cut.
Food pantries are set up through churches and other organizations to collect and provide food to families and individuals in emergency situations. In Cattaraugus County — where West Valley is located — 15,042 households, or 39,071 people, sought assistance from food pantries and other services for the needy last year.
Earlier this fall, EM employees across the DOE complex completed an effort similar to the one in West Valley by donating close to 50,000 pounds of non-perishable items to the Fourth Annual Feds Feed Families Campaign. They easily surpassed their target of 19,120 pounds. All donations were delivered directly to food banks to provide goods to the needy.