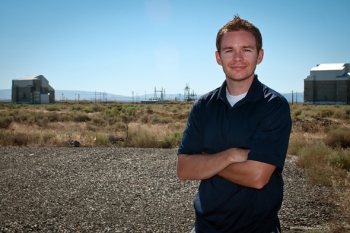 Cameron Salony, who will begin one-year Fellowship in Japan this summer, stands near Hanford's D and DR Reactors.
RICHLAND, Wash. – An EM employee has been selected for a unique program established by Congress two decades ago to build a corps of federal employees with substantial Japan expertise.
Cameron Salony, a public affairs specialist for EM's Richland Operations Office at the Hanford site since 2009, is one of 10 federal government employees awarded the Mike Mansfield Fellowships for 2014-2015. Mansfield was a U.S. ambassador to Japan and congressman from Montana.
"I'm excited to join a program that makes major contributions to understanding and cooperation in U.S.-Japan relations," Salony said. "I hope to gain skills, contacts and expertise that facilitate DOE's work on Japan-related programs."
DOE officials congratulated Salony for being selected for the Fellowship.
"Before coming to DOE in my current position, I had the opportunity to travel to Japan each year with a delegation of senior congressional staff. Our group made a point on each trip to meet with the Mansfield Fellows. As U.S. government employees working on assignments within the Japanese government, the Fellows had a unique perspective that was of great interest to the congressional staffers as they sought to better understand the similarities and differences between our two countries." said David Klaus, DOE Deputy Under Secretary for Management and Performance.
"The Fellows also are great ambassadors for the U.S., helping to strengthen the relationship with one of our closest allies — and in the process they have a wonderful opportunity to experience the incredible culture of Japan. I hope that Cameron has an enriching experience and is able to apply the skills and information he learns to his work at DOE," Klaus said.
In July, Salony heads to Ishikawa Prefecture for a seven-week homestay and intensive Japanese language program before moving to Tokyo for 10 months for placements in the government of Japan and nongovernmental entities.
Salony hopes to draw on his expertise in science and energy missions he has cultivated at Hanford as he works side-by-side with his Japanese counterparts on issues in their professional fields.
"I'm lucky to be around so many good people at Hanford working on a vital cleanup mission and I'm looking forward to working with the good people of Japan," he said.
The Fellowship is considered a unique professional career development opportunity for U.S. federal government employees. The Fellows will gain an in-depth understanding of Japan's government and policymaking process as well as a network of contacts in the government of Japan and the business, professional and academic communities.
"The world has grown in complexity since the Mike Mansfield Fellowship Program was established 20 years ago, and the skills and interests of this new group of Mansfield Fellows reflect changes in the world and in the U.S.-Japan partnership in those two decades," said David Boling, interim executive director of the Maureen and Mike Mansfield Foundation and director of the Mike Mansfield Fellowship Program. "The 10 Mansfield Fellows selected this year are committed to helping the United States and Japan work together to address critical challenges including terrorism, regional and global security, and white-collar crime."
Boling continued, "They also are eager to exchange ideas and information that will help our countries take advantage of new opportunities, including clean energy technology development and innovative community-oriented policing. As the U.S.-Japan partnership has grown, so has the need for U.S. government officials who understand these challenges and opportunities and who are able to build their expertise and networks through the Mike Mansfield Fellowship Program."