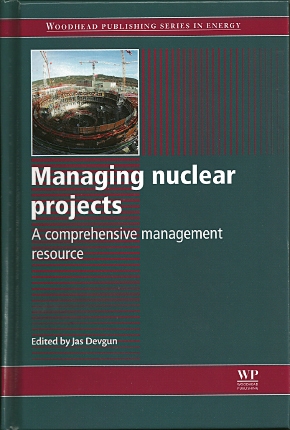 EM officials wrote a chapter of this book, described as a valuable resource for project managers, plant managers, engineers, regulators, training professionals, consultants and academics.
WASHINGTON, D.C. – EM officials wrote a chapter of a recently published book, Managing Nuclear Projects – A Comprehensive Management Resource, which covers a range of areas with emphasis on process, requirements and lessons learned. Authors from France, Germany, Argentina, Belgium, Finland, Austria, and the U.S. contributed to the book.
Mark Rawlings, an EM general engineer, and Andrew Szilagyi, director of EM's Office of Deactivation & Decommissioning and Facility Engineering, wrote the EM chapter titled, "Management of Complex Projects and Facilities: Practices at the United States Department of Energy's Office of Environmental Management."
Published by Woodhead Publishing Limited, the book was edited by Dr. Jas Devgun, a senior consultant with more than three decades of experience in the nuclear field. Each book chapter has different authors. EM contributed to the book at the request of the editor.
EM's chapter discusses the origin of its program, the extent of cleanup necessary, prioritization of cleanup activities and the substantial progress to date, including completion of cleanup activities at 90 sites. It outlines how EM manages large projects and describes its fundamental challenges, including the need to establish performance baselines before completion of all front-end planning, along with the root causes and corrective measures taken.
The chapter features a history of EM's project management, including when EM instituted project baseline summaries (PBSs), which group similar types of work, in 1997; the "projectization" effort in 2003 that set PBSs as projects; and work with DOE's requirements involving program and project management for the acquisition of capital assets. The authors also discuss EM's successful project management and commitment to continuous project management improvement.