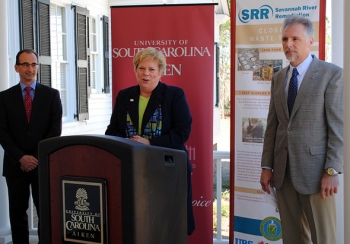 Officials announce financial support for a new engineering program at the University of South Carolina Aiken. Pictured, left to right, are URS Global Management and Operations Services General Manager James Taylor, USC Aiken Chancellor Sandra Jordan, and SRR President and Project Manager Ken Rueter.
AIKEN, S.C. – EM contractors URS and Savannah River Remediation (SRR) pledged to contribute $400,000 over several years to help fund a proposed four-year engineering degree at the University of South Carolina Aiken (USC Aiken).
"SRR's commitment to promote degrees in science, technology, engineering and math has been substantial over the years and I have witnessed its success," said DOE Savannah River Operations Office Manager Dr. David Moody. "This donation to fund a four-year engineering program at USC Aiken is another example of that exemplary commitment."
URS, a 25-year partner and supporter of USC Aiken, was pleased to offer its financial support to the proposed Bachelor of Science Degree in Industrial Process Engineering.
"Both URS and our limited liability company, Savannah River Remediation, recognize there is a significant demand for engineering degree opportunities for students at the Aiken campus," URS Global Management and Operations Services General Manager James Taylor said.
SRR is the liquid waste contractor supporting the EM program at the Savannah River Site in Aiken.
There is a significant demand for engineering degrees among non-traditional students employed in the Central Savannah River Area. USC Aiken has offered evening engineering courses, but students must travel to the Columbia campus to complete the degree program. Some students do not pursue the degree because they are unable to relocate to Columbia, which is about 55 miles away.
"Given the short- and long-term needs of the regional business community, and in the science, technology, engineering, and math areas, there is a need to attract students to an engineering program in our region," Taylor said. "URS believes that it is important to provide students with the option to attend a regional university to attain a four-year engineering degree and, with the growth of the nuclear industry in the university's 60-mile region, the timing is right for this degree."
USC Aiken officials believe students educated in Aiken are more likely to stay there for engineering careers, benefiting the community's business and government sectors.
USC Aiken Chancellor Dr. Sandra Jordan said the school is thrilled by the URS and SRR investment.
"By funding this proposal, they are making a tremendous difference in engineering education opportunities for students from the Aiken region and building a pipeline for future employees," she said.
Jordan said the engineering degree must be approved by the USC Board of Trustees and the South Carolina Commission on Higher Education. The goal is to begin the program in fall 2015.