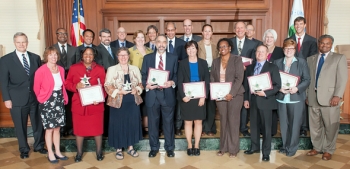 Members of the Interagency Five-Year Review Workgroup gather for a photo after receiving the Excellence in Partnership award from the EPA's Office of Solid Waste and Emergency Response on Sept. 18. The award recognizes the workgroup's collaborative effort in developing tools for the five-year reviews. DOE members of the workgroup include, front row, fourth from left, Gerald C. DiCerbo; fifth from left, Letitia O'Conor; and seventh from left, Cliff Carpenter. Also pictured are, first row, first from left, EPA Associate Deputy Administrator Lisa Feldt, a former EM employee; far right, EPA Office of Solid Waste and Emergency Response Assistant Administrator Mathy Stanislaus; back row, first from left, EM Office of Site Restoration Associate Deputy Assistant Secretary William Levitan; and second from left, Office of Health, Safety and Security's Office of Sustainability Support Director Josh Silverman.
WASHINGTON, D.C. – EM is contributing its expertise to an award-winning federal interagency workgroup tasked with developing tools for federal facility site managers to streamline and communicate a five-year review process. Subject-matter experts from EM and the DOE Offices of Legacy Management (LM) and Health, Safety and Security (HSS) participate in the Interagency Five-Year Review Workgroup with the Environmental Protection Agency (EPA) and the Defense and Interior departments.
Many Cold War cleanup sites conduct these reviews to ensure cleanup remedies already in place continue to protect human health and the environment.
Congress mandated that sites with remaining contamination complete the reviews every five years to ensure protective remedies work properly. The review documents ongoing monitoring and maintenance activities and evaluates whether onsite contaminants pose a health risk.
The workgroup provides community outreach tools. Those resources are available here.
By January 2014, the workgroup will publish a training module and other tools for federal facility five-year review managers. The tools focus on best practices for project management and ensure quality documents are prepared in the review. Experts from EM's Oak Ridge, Hanford, Savannah River and Idaho sites, the offices of LM, Science and Nuclear Energy and the National Nuclear Security Administration provided best practices to help develop the tools. HSS will solicit input on the tools from DOE experts and provide training across the Department in 2014.
"Working closely with these federal agencies to communicate and streamline our five-year review process is value-added for DOE," said Letitia O'Conor, EM's Office of Environmental Compliance contact and the workgroup's EM representative. "Ensuring reviews are thorough, accurate and timely — and address community outreach — are critical as we safely complete our cleanups and provide long-term stewardship for our sites."
O'Conor said the new five-year review stakeholder outreach tools will assist sites in communications with stakeholders. Earlier this year, EM headquarters received an A+ grade for outreach to local governments and communities in an Energy Communities Alliance (ECA) report. ECA attributed the A+ to the willingness of senior managers to meet with local government officials and others. EM headquarters received the same score in 2010. ECA said EM strives to ensure local government officials and interested stakeholders understand th e environmental, health and safety issues at their sites. ECA represents local governments impacted by DOE activities.