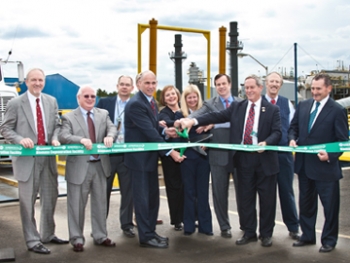 Pictured from left are Senior Advisor for Environmental Management David Huizenga; DOE Savannah River Operations Office Manager Dave Moody; SRNS Infrastructure Maintenance and Engineering Manager John Stafford; DOE Federal Projects Director Jim DeMass; Under Secretary for Nuclear Security Thomas D'Agostino; DOE-Savannah River Assistant Manager Karen Guevara; Ameresco Federal Programs Director Nicole Bulgarino; Ameresco Executive Vice President Keith Derrington; U.S. Rep. Joe Wilson (R-SC); Ameresco Program Manager Ken Chacey; and Ameresco President and CEO George Sakellaris.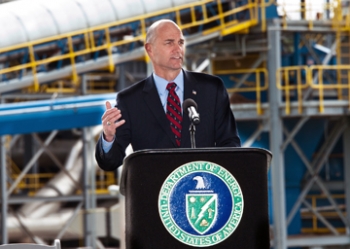 Under Secretary for Nuclear Security Thomas D'Agostino addresses an audience of about 150 people during the ribbon-cutting ceremony for the SRS Biomass Cogeneration Facility. "Projects like the SRS biomass facility are helping to deliver energy efficiency savings that benefit both taxpayers and the environment. Hundreds of people were put to work building this new facility that will save money, dramatically reduce emissions at the Savannah River Site and help the Department to achieve our energy saving goals," D'Agostino said.
AIKEN, S.C. – Senior Advisor for Environmental Management David Huizenga and Under Secretary for Nuclear Security Thomas D'Agostino were among the officials who marked the operational startup of the Savannah River Site (SRS) Biomass Cogeneration Facility recently.
One of the largest of its kind in the U.S., the new highly-efficient, biomass-fired cogeneration facility replaces a 1950s-era coal-fired plant and will result in significantly reduced pollutant emissions, including a reduction of 100,000 metric tons per year of carbon dioxide emissions. The new facility will reduce water and energy consumption, lower operating and maintenance costs and contribute substantially to achieving DOE's renewable energy goals.
The Energy Savings Performance Contract (ESPC) funding the facility and two smaller biomass-fired steam plants was the largest ESPC — at $795 million — to date for renewable energy.  ESPCs are performance-based contracts that leverage private sector funding.
EM has been a leader in the use of performance-based contracts to reduce energy and water use and develop onsite renewable energy sources. Performance-based contracts identify expected deliverables, performance measures and outcomes and make payment contingent on their successful achievement. They employ techniques, such as consequences and incentives, to ensure that the agreed-upon value to the federal agency is received.
Spanning 34 acres, the biomass cogeneration facility is the culmination of 30 months and more than 600,000 hours of labor. The project sustained and created an estimated 800 jobs. When fully operational, the plant will provide 25 fulltime jobs onsite.