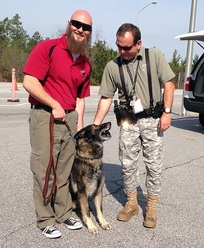 Wade Sumner, Dax's last handler at SRS, says goodbye to Dax as the dog rejoins his former handler, federal Special Agent Patrick Price.
AIKEN, S.C. – Dax, a male German shepherd in the Savannah River Site's (SRS) security canine unit, recently earned retirement by joining the family of one of his former trainers.
   Trained to detect potential explosive threats, Dax served with SRS security contractor WSI-SRS starting in 2007. After being diagnosed with intervertebral disc disease earlier this year, Dax retired from the unit and reunited with the former trainer, Patrick Price.
   Canine teams form a mutual trust, growing to depend on teammates for support and companionship. Retiring a canine that served SRS is difficult due to the bond with the partner. 
    SRS Lt. Paul Gerstenberger contacted Price, a former WSI canine handler who worked with Dax, regarding the dog's retirement. Now a federal agent, Price asked that he care for Dax in retirement.
   "I'm extremely pleased that Dax has found a home and is now reunited with Patrick," Gerstenberger said. "I'm confident he will receive the care he has earned through his faithful service to our nation."
   Price found that his bond with Dax remained strong despite the years apart.
   "Dax was like a member of my family when I had the privilege of being his handler," Price said. "Now that he has retired, it's an honor to have him live out his retirement years as a member of my family again."