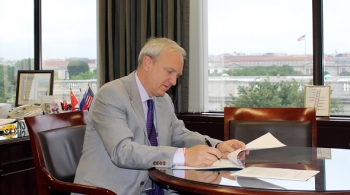 EM Acting Assistant Secretary David Huizenga signs the notice of intent in late May.
WASHINGTON, D.C. – The Energy Department recently signed a notice of intent to prepare an environmental assessment to analyze the potential environmental impacts from a proposed project to accept used nuclear fuel from the Federal Republic of Germany at DOE's Savannah River Site (SRS) for processing and disposition.
   A public meeting on the proposed project was held near SRS on June 24. DOE proposes to accept, process, and disposition used nuclear fuel from Germany containing approximately 900 kilograms of highly-enriched uranium (HEU) from the U.S. The used nuclear fuel is composed of kernels containing thorium and U.S.-origin HEU embedded in thousands of small graphite spheres. The fuel was used in pebble bed research reactors.
   The Department would install a capability in H-Canyon at SRS to chemically remove graphite from the fuel kernels via a molten salt technique being developed by EM's Savannah River National Laboratory, which is part of the DOE's network of national laboratories. The assessment will analyze potential environmental impacts of transporting the fuel to SRS, storage and processing at SRS, and alternatives for disposition of the HEU that would be separated from the fuel kernels.
   While no decision has been made to accept this fuel, the planned cooperation would support efforts by the U.S. to reduce and eventually eliminate HEU from civil commerce. By removing U.S.-origin HEU from Germany and returning it to the U.S. for safe disposition, DOE could render it unusable in a nuclear weapon or an improvised nuclear material dispersal device.
   All work to support DOE's evaluation will be funded by the German government.