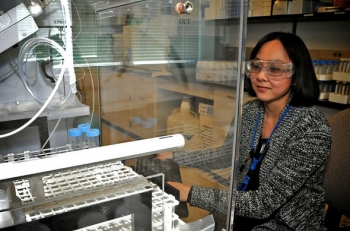 Hnin Khaing focuses on her work at WIPP Laboratories near Carlsbad, New Mexico
Corey White works at WIPP Laboratories near Carlsbad, New Mexico
CARLSBAD, N.M. – The National Analytical Management Program (NAMP), which coordinates analytical services and capabilities throughout DOE, has garnered global interest.
"NAMP is addressing a vital need to attain the most effective use of technology and resources for U.S. radiological preparedness," said DOE Carlsbad Field Office (CBFO) Manager Joe Franco.
CBFO, which has responsibility for the Waste Isolation Pilot Plant (WIPP) and the National Transuranic Program, has led NAMP since fall of 2010. The program's objective is to coordinate analytical capabilities for responding to a national radiological event.
"We're very pleased to have CBFO leading the NAMP initiative for the Department in partnership with the U.S. Environmental Protection Agency (EPA)," Franco said. "NAMP's synergy in effort provides multiple benefits to the nation's preparedness by facilitating standardization, training and education."
Last year, NAMP took its latest education and training initiative online. Through a series of webinars, the program provides networking and educational advancement opportunities for radiochemistry professionals.
"The most recent NAMP action offering the webinar series with experts in radiochemistry and fields related to it from major universities has drawn interest from around the globe," said Franco.
Oba Vincent, CBFO senior strategist, serves as the program's director. He expected about 30 people to register for the first free webinar in April 2012. About 150 people signed up.
"Interest with radiochemistry professionals has accelerated," said Vincent. "The webinar held in December 2012 had nearly 300 people register."
The webinar series includes presenters with doctorates, offering a rare opportunity for continuing education in the field of radiochemistry. Nine webinars have been provided, and a final one on trivalent actinides will be on Thursday. NAMP has ideas for about 20 more webinars, enough to fill the schedule for two more years.
Twelve laboratories participate in NAMP, including Savannah River National Laboratory in Aiken, S.C., and WIPP Laboratories. Six of those laboratories joined EPA's Environmental Response Laboratory Network, doubling the nation's capacity to respond to a radiological event, according to Vincent. That network connects laboratories from multiple federal agencies.
In February 2013, WIPP Laboratories received the Certificate of Registration for Clinical Laboratory Improvement Amendment (CLIA), which permits it to begin radiochemical testing of emergency bioassay — the determination of the relative purity of a substance — samples provided by the Centers for Disease Control and Prevention (CDC) in support of federal agencies, including the U.S. Department of Homeland Security.
More information is available at the NAMP website.