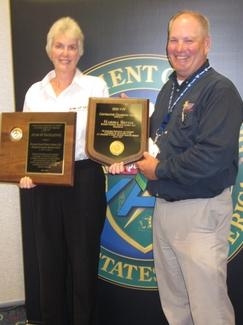 Wastren-EnergX Mission Support (WEMS) Senior Safety Engineer Marsha Bevins, left, stands with DOE Director of Worker Safety and Health Brad Davy while holding her Voluntary Protection Program Contractor Champion of the Year award and the 2012 Star of Excellence award WEMS received.
PIKETON, Ohio – A DOE program that promotes safety and health excellence at the Department's contactor sites has honored a senior safety engineer at the Portsmouth Gaseous Diffusion Plant with its annual safety champion award.
DOE's Voluntary Protection Program (VPP) bestowed its Contractor Champion of the Year award on Wastren-EnergX Mission Support (WEMS) Senior Safety Engineer Marsha Bevins for her work promoting safety excellence at the plant. WEMS is a prime contractor at the plant, performing facility support services.
Bevins received the award this summer at the 28th annual National Voluntary Protection Programs Participants Association (VPPPA) meeting in Anaheim, Calif. The VPPPA advances cooperative occupational safety, health and environmental management systems and brings together VPP participants from DOE and the Occupational Safety and Health Administration (OSHA).
With 20 years of experience in the safety industry, Bevins was instrumental in obtaining the initial VPP Star status in 2009 for the previous facility support services contractor at the site, Theta Pro2Serve Management Company. The VPP has three levels of recognition: Star, Merit and Demonstration. Contractors that meet the requirements for outstanding safety and health programs receive the Star recognition, the highest achievement level.
When the DOE contract transitioned to WEMS in 2010, Bevins worked to ensure that the Star status also successfully transitioned to WEMS. As the WEMS VPP site coordinator, Bevins organizes promotional events, facilitates safety meetings and conducts training throughout the year.
The Champion of the Year award acknowledges Bevins's hard work on the job and her contributions to the overall success of VPP. She has served on two VPP assessment teams and is scheduled to participate in another assessment later this year. An assessment team is a voluntary group of contractors from a DOE site that reviews a contract's safety program for improvement.
Bevins mentors employees from other companies in safety excellence and the process of attaining and sustaining VPP Star status. Her coordination of a local "VPP Summit" this summer brought together VPP teams from four DOE contractors (including contractors from Portsmouth, Paducah and Oak Ridge sites) to share best management practices and lessons learned. Bevins is also involved in the OSHA Special Government Employee (SGE) program which allows industry employees to assist OSHA in VPP onsite evaluations.
In 2011 and 2012, VPP recognized WEMS with its Star of Excellence award. Recipients of that award demonstrate that their injury and illness incident rates and lost workday injury and illness rates are at least 75 percent below the Bureau of Labor Statistics national average in the industry. Recipients also must show they are actively involved in VPP outreach and mentoring activities.